Global Data Barometer Handbook¶
You are viewing the Global Data Barometer Research Handbook (2021).
Introduction¶
Data is a source of power. It can be exploited for private gain and used to limit freedom, and it can be deployed as a public good—a resource for tackling social challenges, enabling collaboration, driving innovation, and improving accountability.
The Global Data Barometer aims to fill critical knowledge gaps on how the use of data is evolving across different sectors, regions, and countries around the world. The Barometer's design thus investigates how the policies and practices of governing, releasing, and using data for the public good are unfolding across the globe.
Building on the Open Data Barometer, which has been used to drive policymaking, advocacy, and academic research around the world, the Global Data Barometer asks the question: To what extent are countries managing data for the public good?
To answer this question, the Barometer incorporates both quantitative and qualitative assessments, drawing on primary data collected through an expert survey implemented by a network of global partners and researchers, as well as data from existing secondary sources and a complementary government survey.
Primary data collection is structured around a selection of country-wide indicators which seek to measure progress in terms of data governance, capability, availability, and use and impact. In addition, specific thematic indicators focus on the state of data for public good in relation to specific sectors or areas of public policy. This combined breadth and depth approach is designed to:
Review and assess the overall environment for data for the public good in each country studied;
Explore whether assessments of the overall environment reflect existing data practices in particular thematic sectors;
Ensure that the collection of indicator data supports reuse in companion products developed by project partners and maximizes the potential reuse value of the data collected within the broader research and policy community.
This handbook contains the primary indicators included in our expert survey. Prospective indicators drawing from secondary data sources will be released later in 2021. The handbook is a living document, to be updated as the pilot edition moves forward in its study of data for the public good.
2021 Pilot Edition¶
For the 2021 pilot edition we are combining three approaches to understand data practices and policies around the world:
We are investigating core data governance and data capabilities;
We are doing a deep dive into a larger data ecosystem with well-established data practices: the intersection of money, property, and power;
We are exploring two areas of urgent global concern where changed data practices are increasingly called for: climate action and health and COVID-19.
The 2021 pilot edition of the Global Data Barometer also explores several research innovations that depart from its predecessor study:
An expanded scope that moves beyond the limited open data focus of past indicators to examine data for the public good more broadly;
New indicator designs and research guidance;
New partnership models for developing and using thematic indicator data;
New approaches to fieldwork through a network of regional hubs in order to benefit from localized expertise.
Design Principles¶
The Barometer's structure, components, and weighting respond to a specific set of design principles.
Flexibility for government structure
While some countries set policy nationally, many countries operate within federal systems that mean that aspects of data policy, capability, availability, and use are shaped by sub-national governments. Indicators have been designed to accommodate this reality. In federal systems, researchers are able to provide a detailed assessment for a single sub-national context and indicate whether this is representative or not of other sub-national contexts.
Universality
The highest scores in the Barometer are achieved when governance, capability, availability, and use can be shown to be universal—when everyone in the country is covered by, or protected by, governance rules; when everyone has access to capabilities or the development of capabilities; when everyone has access to meaningful data; and when data use has impact for the public good across the country.
Bright spots design
The Barometer has adopted a bright spots design approach with the intention of collecting data on leading examples of good practice, even if the practice is not yet universal within a country.
The Barometer Structure¶
The overall structure of the Barometer was developed following a participatory design workshop, which identified four pillars or core components, a range of potential themes, and a number of cross-cutting issues. The following description offers a snapshot of how the study's structure addresses all of these; you can read more about the Barometer's structure and process in the methodology section of the handbook.
Pillars¶
The Barometer is organized around four pillars or core areas of assessment: governance, capability, availability, and use and impact.
Themes¶
The 2021 pilot edition examines seven themes:
These themes allow us to examine data for public good in significantly different kinds of data ecosystems and to speak to a range of government functions and sustainable development goals, while benefiting, as well, from the deep expertise of partners.
Modules¶
Modules, divided into core modules and thematic modules, implement the Barometer's pillars and themes and structure the survey for presentation to researchers, reviewers, and users of GDB data. Modules vary in scope and size; weights applied during index calculations will balance their influence on the overall Barometer score.
Core modules correspond to data governance and capability, two of the Barometer's pillars. These standalone modules contain indicators designed to provide a country-wide assessment of two of the most critical issue areas for developing an effective data ecosystem. Additional indicators on governance and capability in the thematic modules complement these core modules. The other two pillars of the Barometer, availability and use and impact, are assessed through the thematic modules.
Thematic modules investigate the interaction of governance, capability, availability, and use in specific domains or public policy areas.
Five thematic modules examine data for the public good related to money, property, and power; these five are organized around:
Company information;
Land;
Political integrity;
Public finance;
Public procurement.
While each of these themes has its own data particularities, they intersect with regard to anti-corruption, integrity, and accountability. In these thematic modules we ask a mixture of questions related to the four pillars of the Barometer.
Our other two thematic modules, climate action and health & COVID-19, are areas that are globally urgent, but often lack open and locally relevant data. Consequently, for these we have designed our indicators to focus on the pillar of availability.
Cross-cutting Issues¶
The Barometer's indicators are also designed to provide insight into a number of cross-cutting concerns: equity and inclusion, COVID-19, emerging AI practices, open data, and data as a critical tool to advance development and meet SDGs. These cross-cutting concerns are reflected variously in the choice of indicators, the sub-questions that indicators contain, and the wording and scoring of indicators. The following sections describe specific ways the Barometer addresses equity and inclusion, COVID-19, emerging AI practices.
Equity and Inclusion¶
For the pilot edition of the Barometer, we are testing a variety of methods for investigating equity and inclusion in data policies and practices, drawing on both dedicated indicators and sub-questions used across modules.
One group of indicators and sub-questions examines equity and inclusion issues tied directly to generating and publishing data: Core governance indicators ask researchers to assess countries' provisions for requiring comprehensive language coverage and compatibility with assistive technologies. A parallel sub-question in all of the thematic availability indicators asks researchers to assess the languages in which datasets are, in practice, available. We plan to also complete an automated assessment of related websites' conformance with WCAG 2.1 (or WCAG 2.2. depending on release date), drawing on the URLs researchers provide as answers throughout the survey.
In the thematic modules our approach is shaped by the particular theme. For example:
The land module includes a dedicated use indicator that investigates how land data influences policies with regard to equitable and inclusive land tenure and use;
The public procurement module includes a sub-question that asks whether public procurement data analytics are being used to improve access to procurement opportunities for marginalized groups;
The climate action module includes a sub-question that asks whether available climate vulnerability data includes information on poverty, gender, and marginalized populations;
The health & COVID-19 module includes sub-questions that ask about whether COVID-19 vaccination data is broken down by age, sex and/or gender, disability status, membership in a marginalized population, residency in a long term care facility, and incarceration status.
Note: The above represent a sample of relevant indicators and sub-questions in the pilot edition, not the entirety.
We have designed our indicators and sub-questions with several practical challenges in mind. First, while sex and gender are increasingly recognized as spectrums not dependent on each other, some organizations and cultures use sex and gender interchangeably. Consequently, in many cases, sex data is listed under the heading of gender, obscuring or blurring gender data. Our relevant sub-questions thus ask about "sex and/or gender" and we ask researchers to note when they find both. This clarification will give us a better idea of the state of good practice in the field. This is imperfect and frustrating and something we hope to improve in the future.
Second, while marginalization occurs around the world, the specifics of marginalization vary within each country. Consequently, at the beginning of the survey we ask researchers to identify patterns of marginalization in their country; then, for sub-questions that ask about marginalized populations, we ask them to cross-check against this list.
We aim to expand our approach in future editions.
COVID-19¶
In the health & COVID-19 thematic module, the Barometer assesses COVID-19–related datasets directly, using both primary indicators and others built from secondary data sources. In many countries, the coronavirus pandemic has also affected data policies and practices more broadly, whether through the establishment of new data cooperatives or the suspension of particular data governance provisions. Consequently, to investigate COVID-19 as a cross-cutting concern, we also draw on data collected via sub-questions in other modules to identify regulations that have changed in light of COVID-19, and impacts of COVID-19 on the availability and use of certain datasets.
Artificial Intelligence¶
The pilot edition of the Barometer examines emerging AI practices through a mixture of primary indicators and others built from secondary data sources. Sub-questions in governance indicators assess how/if governance frameworks are addressing artificial intelligence; sub-questions in use indicators track algorithmic uses of datasets. We are also exploring secondary data sources, both to complement these approaches and to track relevant capacities to deploy AI for the public good in conjunction with the Barometer's core capability module.
Methodology¶
Overview¶
This overview is intended both for researchers and reviewers involved in generating and validating the Barometer's survey data, as well as those seeking to understand the overall approach of the Barometer and the data that the study produces.
As the Global Data Barometer investigates data policies and practices across the data spectrum, particularly those that can be influenced by government action, before moving forward into the modules and indicators, it is important to be familiar with foundation concepts behind the Barometer: the Data Spectrum, the Open Data Barometer (ODB) and the Open Data Charter Principles.
Structure & Process¶
The Barometer is a multi-dimensional index, comprised of components and subcomponents; these components and subcomponents are in turn built from composite indicators that combine primary and secondary data. The goal is to develop an overall comparative assessment of the extent to which countries (or regions) govern and use data for the public good. Consequently, the Barometer breaks down the concept of data for the public good into various individual components and sub-components, each assessed separately. Results are then aggregated into an overall score.
The Global Data Barometer is based around four pillars or foundational areas of assessment: governance, capability, availability, and use and impact.
Governance is concerned with whether there are rules, processes, and institutions in place both to make data available for the public good and to safeguard that data against misuse. Governance indicators generally look at the country's legal and policy frameworks that support data ecosystems.
Capability is concerned with whether the country has the means, connectivity, skills, and institutional capacity to create, share, and use data for the public good. The majority of capability indicators will be drawn from secondary data, but additional capability questions are included in the survey.
Availability is the largest section of the primary survey and explores whether certain categories of data are available, shared, and of adequate quality to allow reuse for the public good.
Use and impact is concerned with finding evidence of particular uses of data and their impact in the country.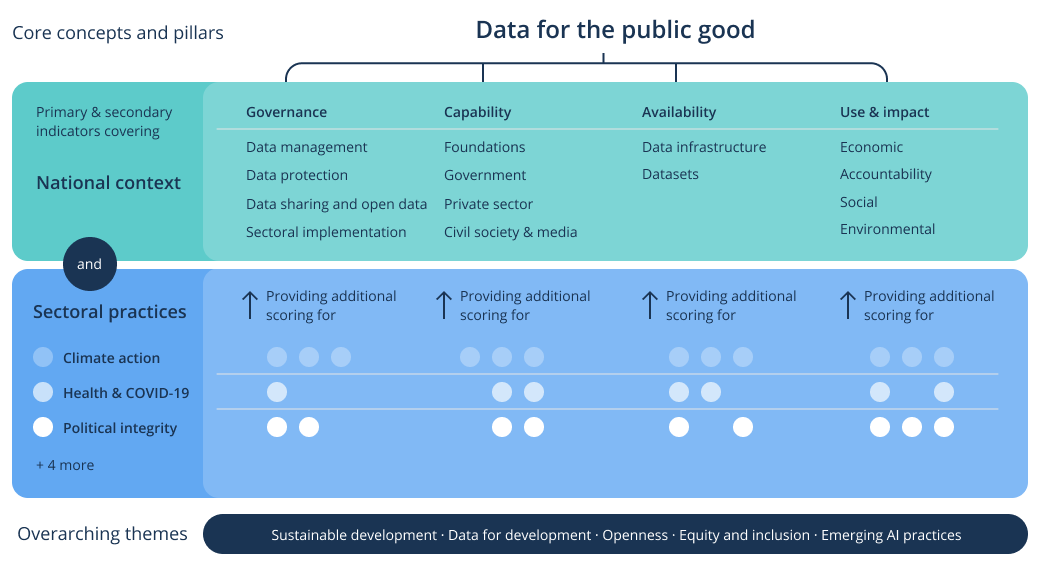 Structurally, the study is organized into core and thematic modules. Core modules assess the overarching country context, while thematic modules look at the interaction of governance, capability, availability, and use in specific domains, such as political integrity, climate action, and land. Modules vary in size, reflecting both the particularities of different data ecosystems and the pilot nature of the Barometer as we seek to explore both the depth and breadth of assessing data for the public good.
Finally, the Barometer explores several cross-cutting issues directly, typically investigated through sub-questions within indicators. These include: equity and inclusion, COVID-19, and emerging AI practices. The data the Barometer gathers also speaks meaningfully to sustainable development, open data, and data for development.
Indicator Design¶
We have designed the Barometer's indicators to:
Generate scores through the use of discrete elements. This is a change from the Open Data Barometer (ODB) scoring method that asked experts to provide a 0–10 score, and responds both to a desire from partners for more structured, granular data, and to past feedback that the previous scoring method led to unexplained variation between assessments. In the Global Data Barometer handbook, you will see the sub-questions under each indicator used to generate indicator scores. The exact calculation of scores is not included, but will be shared later in the year following further consultation.
Anchor in established agreements and practices. For the majority of indicators, a review of the literature, international standards, and agreements has been completed to ensure that indicators assess countries against reasonable benchmarks that are rooted in applicable international agreements or commitments. In particular, we draw on the Sustainable Development Goals as the basis for international agreement on public goods.
Identify bright spots and recognize different systems of government. We have sought to increase the sensitivity of indicators to federal systems and to cases where good practices may exist at an agency or sub-national level, even if the practice is not yet widespread. We have also sought to avoid cultural or high-income country biases in the design of indicators by utilizing examples and evidence from a wider range of settings.
Generate actionable data. For a number of themes, we have worked with partners to understand how they might use the primary data generated by the Global Data Barometer, as well as how that data can support improved government practice.
Maintain continuity with the ODB. Certain indicators and selected indicator sub-questions have been included in order to build upon past editions of the ODB and provide continuity with former study metrics, including assessing the presence of open data frameworks, initiatives, and datasets. In some cases, new secondary sources have been identified to replace previous ODB questions; therefore, not all ODB data categories are necessarily reflected in the Global Data Barometer handbook.
Government Survey¶
To augment the results of the expert survey and support a greater depth of analysis, we are also conducting a complementary government survey. In parallel with the expert survey, governments are invited to provide evidence that a researcher might not find on their own. These answers will be shared with reviewers, who will determine whether government-provided evidence requires researchers to update their assessments.
Running the expert survey and government survey in parallel will allow researchers to move forward with their assessments, while also reducing the impact of potential disparities in the quality and depth of government responses.
Guidance
General Guidance¶
The handbook is designed to be a one-stop resource on the GDB assessment process, including detailed information on methodology, general guidance to researchers, sources to be used, as well as detailed question-by-question guidance for researchers. Here you'll find both general guidance, about the research parameters and process overall, as well as guidance specific to each indicator.
Time Period for the Study¶
Each edition of the Barometer will focus on a particular, defined period of time. Researchers are asked to examine evidence and sources that apply specifically to this period; answers should assess the state of data within the country only during this defined period, unless otherwise stated.
The 2021 pilot edition of the Barometer covers the state of data policies and practices between May 1st, 2019 and May 1st, 2021.
Therefore, for questions regarding laws, policies, strategies, capacity-building interventions, dataset availability, or uses of data, answers should only consider examples that have either occurred or were current during this two-year period.
Sometimes, determining whether or not an activity remained current during the relevant time period may seem complicated, particularly with regard to questions of capability and use. While we recognize that the effects of successful capacity-building or impactful use are, after all, often long-term by design, for an activity to be assessed for this edition of the Barometer, the activity must have been ongoing during the period of the study.
For example:
A country that had a Data Strategy 2015–2019 but does not have a more recent strategy document, would not be assessed as having a data strategy in this study period.
A country that has a Data Strategy 2018–2022, originally published in 2018, but for which there is evidence of continued activity or implementation, would be assessed as having a data strategy in this study period.
Updates to a country's data portal on June 1st, 2021 would not be counted in the assessment for this study period.
A government's data literacy program that was held on April 30th, 2019, would not be counted in the assessment for this study period.
To answer "Yes" to a question based on a use of data first reported in an article in 2016, a researcher would need to provide a citation or source showing that this use remains active or has meaningfully developed in recent years.
If COVID-19 has affected data availability at any point during the study period, this would count as a case of COVID-19 affecting data availability, even if changes have been reversed by May 1st, 2021.
Wherever possible, researchers should cite contemporaneous sources from the defined period.
The Research Process¶
The Barometer uses an iterative process to generate robust, validated data. The following diagram and sequence of steps outline the data collection process.

Research training: Training sessions introduce regional coordinators and country-level researchers to the Barometer's methodology and help establish consistency.
Research mini-testing: Researchers complete two indicators, which coordinators then review, providing feedback with regard to both form and substance. Researchers make any corresponding updates and apply what they have learned to the rest of the research process.
Research underway: Researchers perform desk research and consult with key individuals to answer the survey questions, providing justifications for each answer.
Research spot-checks: Coordinators monitor the research progress, carrying out spot-checks as responses are completed and providing feedback on areas to improve.
Data collected: Researchers have completed the full survey; coordinators check to make sure all expert survey questions have been answered and the survey tool has been completed properly.
Peer review: To validate the data, researchers then check the answers provided by colleagues in a crossed peer-review mechanism, offering comments or questions where required, or requesting additional detail in the justifications. To inform their review, reviewers will have access to any relevant evidence provided in response to the complementary government survey. The original researcher implements or addresses any reviewer feedback as appropriate.
Thematic review: During the peer review period, the core Barometer team also organizes a followup review of the assessments by thematic experts. Thematic experts may flag certain responses for additional research, correction, or clarification, and provide notes for the researcher to respond to.
Research completion: Reviewers and coordinators check the updated surveys to ensure that feedback has been addressed. The coordinator makes a final check and closes the data collection process.
Research Strategies¶
Starting points and searching¶
For each primary indicator, specific research guidance contains suggested starting points; these may include sources to check, searches to run, and individuals to consult.
As much as possible we have linked to existing information that researchers can check for evidence relevant to the indicator and its sub-questions. The search suggestions provided should be run on the most relevant or best available search engine for the country; these will need to be adapted and translated into relevant languages. Before setting up any interviews, researchers may wish to review the entire set of indicators to determine what interviews might be most useful to conduct. Researchers should also use their own expertise to identify other ways to answer questions.
Sub-questions have been designed to support keyword searching of documents and rapid review of datasets. We anticipate researchers will make extensive use of Ctrl-F / Cmd-F keyboard shortcuts to search inside documents and then check surrounding context, rather than reading every source document in full.
Time management¶
Completing the Barometer survey may take very different amounts of time from country to country, depending on a number of factors:
Whether or not the subject an indicator focuses on exists in the country. For example, if a researcher concludes that there is no legal or regulatory framework for publishing political party finance data at all—or that there are no independent political parties in the country, making the questions moot—answers to subsequent sub-questions would all be "No." In these cases, the researcher only needs to write a research journal entry explaining their answer to the existence question plus a short justification.

The availability of online evidence. Some countries publish all of their laws in a single searchable online location and provide comprehensive national data portals; this will make keyword searches and dataset reviews more straightforward. In other countries, finding copies of laws or tracking down datasets may take more time. Similarly, the quality of a government's websites and search engine indexing may also affect how long research takes. Additionally, when evidence is difficult to find online, researchers may need to conduct interviews with experts, which can affect how long research takes.

Levels of centralization or decentralization. For some countries, it may be important to check for each question not only the national government but also a number of sub-national governments in order to locate bright spots. In other countries, only the national government may be relevant to check.

Translation requirements. For some countries, researchers will need to identify the correct translation of key terms into the relevant local languages before searching.
We anticipate that, for most countries, these time variations should balance out.
As a general guideline, completing each question should take between 30 minutes and 3 hours. If you're finding that questions take more than 1-½ hours to complete—on average—you may need to adapt your research strategies. The research journal can be used to indicate cases where it was hard to find a conclusive answer to a question on the first pass of research.
Researchers may also wish to experiment with researching first whether or not the subjects of a range of indicators exist, and then returning to explore other sub-questions in depth; this approach can help you become familiar with possible sources.
Indicator Guidance¶
The structure of this section of the handbook parallels the structure of the indicator's various fields in the survey tool. Here researchers will find guidance for common concerns related to these various components.
The primary indicators in the Global Data Barometer are framed as to what extent questions. Indicators are made up of a number of discrete sub-questions, which in total will generate weighted scores on a 10-point scale. In the pilot edition, these scores are not displayed to researchers to avoid any potential bias while collecting data.
Typically, indicator sub-questions are organized in three sections: existence, elements, and extent, and each indicator has a research journal and justification and sources section.
Indicator Status and Confidence¶
Status¶
In the survey tool, at the top of each indicator is a space to indicate the status of your research. Use this to keep track of your work. Researchers can mark an indicator as "Not started," "Draft," or "Complete." Reviewers can mark content as "Reviewed." The research coordinator can view the completion status of indicators in their management dashboard.
Confidence¶
For each indicator, researchers can provide a personal assessment of their confidence in the answers they have provided. This is a useful way for researchers to indicate to reviewers whether they believe their answers to be highly accurate or if they have concerns about answers' accuracy—for example, when researchers have not been able to confirm answers in the time allotted. Use the indicator's research journal to briefly record any reasons for a lower confidence in the accuracy of the answer.
In some cases, researchers may also have concerns about the reliability of the data published by governments. This can be noted in the research journal or justification box. The confidence field is only for researchers to assess their confidence in the accuracy of their own answers.
Existence Sub-questions¶
Existence sub-questions ask researchers to determine whether relevant frameworks, institutions, training programs, datasets, or use cases exist. For each indicator, as part of the indicator-specific guidance, the handbook contains a "Definitions and Identification" section. This describes the governance arrangements, capabilities, types of data, or use cases the researcher should look for.
The researcher must check carefully whether anything meeting this definition exists in the country—and if so, locate the best possible examples to assess. As appropriate, the existence sub-question will then ask researchers to assess the nature of the example(s) they have identified.
When there is no evidence¶
If the researcher determines that there are no examples that correspond to an indicator—or if they cannot locate evidence of such existence—then they must explain in the research journal the research steps they took to come to this conclusion.
Additionally, researchers must provide in the justification box a short explanation and its source (if available), as well as any relevant context regarding this absence. Such context might include, for example, related evidence that did not fully match the requirements, evidence that was only available for times outside of the period defined in the study, etc.
For example...

Justification: A data protection law has been proposed a number of times by civil society, and introduced as a draft by opposition parties. However, it has no reasonable prospect of becoming law.

Source: Article describing history of campaign for data protection law in country.
In most cases, a "No" response to an existence question will mean the indicator's other sub-questions do not need to be completed.
When information is not online¶
If the researcher finds evidence that information exists but is not available online—for example, because it is only accesible via an information request or by visiting the government agency in person—the researcher should select "information is not online." Supporting questions will ask the researcher to explain and provide evidence about how the information can be accessed.
If the basic information that is available online is sufficient to answer any of the element or extent sub-questions, the researcher should try to do so, providing corresponding evidence. If the basic information isn't sufficient to answer any other sub-questions, the researcher should mark those sub-questions "No" or similarly, as appropriate.
The Barometer draws on desk research and interviews, with an explicit focus on evidence that is available online. To answer sub-questions a researcher may need to conduct interviews, but the researcher shouldn't have to visit government agencies to examine datasets—other than online—or seek additional information through formal information requests.
Locating the best example¶
The Barometer uses a bright spots design, built to handle federal systems with flexibility. This means that, unless otherwise specified in the indicator guidance, researchers should look first for national examples (e.g., national law, nationally provided dataset) from the government. If no such example is identified, or the example appears weak (e.g. the answers to many other sub-questions are "No"), the researcher should then check for the presence of sub-national examples or, when relevant, those that only apply to particular agencies.
If a sub-national example is both stronger than the national example and representative of widespread practice across the country, it can be assessed instead of the national example. This must be explained clearly in the justification box. Otherwise, the researcher should assess the national example and note any isolated sub-national examples they have identified in the justification box.
Generally, comprehensiveness issues will be addressed in an indicator's extent sub-questions, which focus on geographic, jurisdictional, or institutional coverage.
See the section on "Handling multiple or fragmentary evidence (elements)" for guidance on how to assess element sub-questions cases when relevant data is distributed across several datasets, each of which may be of different quality.
Handling multiple or fragmentary evidence (existence)¶
Sometimes, answers to an indicator's sub-questions will be spread out across multiple sources. For example, a relevant framework may involve multiple laws or policies, or relevant data may be organized across multiple datasets, perhaps even published by different agencies. This will vary by country. When you find this to be the case, to answer the existence question of such a framework, dataset, capacity-building program, etc., you must identify all of the relevant components in the overall justification box.
For related information, see also the section on "Handling multiple or fragmentary evidence (elements)."
Frameworks and the force of law¶
Existence sub-questions in core governance indicators ask whether relevant laws, regulations, policies, and/or guidance have the force of law. Researchers should exercise their expert judgement when deciding whether relevant laws, regulations, policies, and/or guidance have the force of law. For example, compare these two cases:
In country X, the law creates an agency to monitor political finance and regulations empower the agency to collect structured data. The agency establishes systems to collect and publish the data. Right-to-information laws ensure a right to request data from the agency. In this case, if the agency stopped collecting or publishing data on political finance without there having been changes in regulations or law, a legal challenge could be mounted.
In country Y, the law creates a duty for political parties to disclose details of their financing, but does not specify the format or public disclosure. The elections commission supplies an Excel template for parties to use, but does not have the power to mandate its use or publish submissions they receive. They start publishing submissions on a voluntary basis, but some parties withhold consent for their submissions to be published. Here, there is a framework in place, but significant parts of it are voluntary and lack the force of law.
Note: In sub-questions we often abbreviate "relevant laws, regulations, policies, and guidance" as "framework." This is because the basis for collecting and publishing data is often distributed across multiple laws, regulations, policies, and guidance documents. For example, one law may empower an agency to collect data, another regulation or memorandum may specify that data should be provided in a structured form, and another law may mandate that when data is provided, it should be under open license. "Framework" is used to represent the collection of relevant laws, regulations, policies, and guidance, it does not imply that a government itself necessarily presents or understands these as a unified framework.
Element Sub-questions¶
Once the relevant frameworks, institutions, training programs, datasets, or use cases have been identified, the element sub-questions invite researchers to carry out a detailed assessment.
In general, elements are written as statements. The researcher will need to examine documents, datasets, or other evidence closely to confirm whether the statement is true or false. In cases where the statement is only partially true, or the researcher has doubts about how far the statement applies, they may answer "Partially." In most cases, elements have supplementary questions that ask the researcher to provide sources or justifications.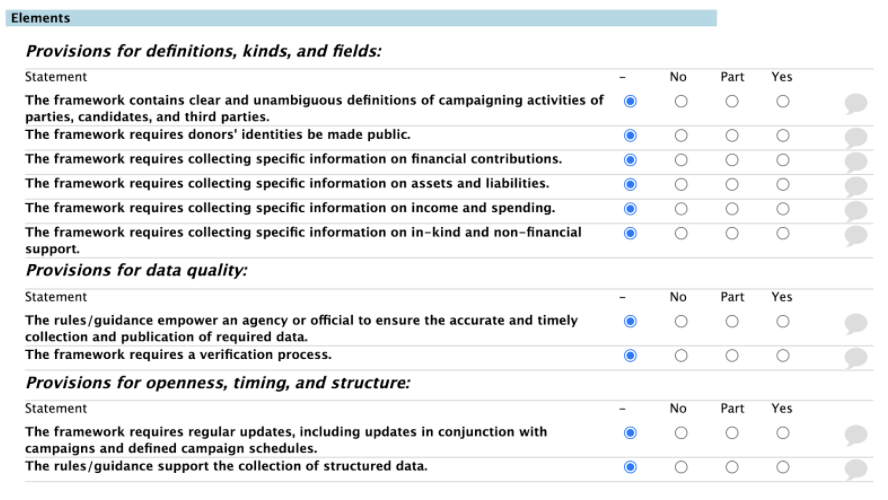 An example of an elements section is shown above. Each statement is on one line, accompanied by radio boxes for selecting "No," "Part" (Partially), or "Yes." The "–" column indicates whether a question has been answered. To complete an indicator, all element sub-questions must be answered. As a researcher answers sub-questions, depending on the answers provided, conditional text boxes may ask for links or short text justifications.
Element sub-questions are clustered into groups; these are typically organized from larger questions that address the focus of the indicator, to narrower questions related to the indicator's focus, to broader data questions and how they apply to this indicator. For example, in an availability question, you might find three groups of element sub-questions, named kinds of data, data fields and quality, and data openness, timing, and structure. Usually there will be two or three such named groups; the final group will be a repeating set of sub-questions that are almost always exactly the same.
Some indicators also include element sub-questions that investigate barriers or blocks—for example, looking at whether the availability of relevant data was affected by COVID-19. These elements are located at the very end of the elements section.
When to answer "Partially"¶
For some element sub-questions, we have provided specific guidance about what criteria justifies a "Partially" answer; this will display beneath the sub-question in italics. In many others we have left what constitutes a "Partially" answer open in order to remain flexible to the wide variance across countries and governments.
Sometimes a single element sub-question will ask about the presence of multiple types of provisions, information, or activities. In this case, researchers should mark "Partially" when only some of the types are present and note which ones in the response box.
For example, one of the sub-questions for the indicator on the availability of Civil Registration and Vital Statistics (CRVS) data asks researchers whether mortality information includes data about age, sex and/or gender, geographic location, and cause of death. A country that only makes available age data should be marked "Partially;" a country that makes available data about age, sex and/or gender, and cause of death (but not data about geographic location) should also be marked "Partially." Researchers should explain in the corresponding response box which mortality data they found to be available.
Handling multiple or fragmentary evidence (elements)¶
Again, sometimes answers to an indicator's sub-questions will be spread out across multiple sources. As noted above, to answer the existence sub-question of an indicator in such a case, you must identify all of the relevant components in the overall justification box. For corresponding element sub-questions, please also indicate in each individual response box which specific policy, dataset, etc. holds that answer.
For availability indicators, when you are working with answers spread out across multiple datasets, use the whole set to assess sub-questions about kinds of data and data fields and quality. However, in alignment with our bright spots design, when you assess data openness, timing, and structure, pick the most complete or comprehensive dataset and explain which one you have assessed in the justification box. Note that "completeness" or "comprehensiveness" here refers to the features assessed as part of the elements checklist. In some cases these individual datasets may not be the most complete in terms of geographic or jurisdictional coverage; this will be addressed in your answer to the indicator's extent sub-question, which assesses the entire collection of datasets.
For related information, see also the section on "Handling multiple or fragmentary evidence (existence)."
Data standards¶
Some governance and availability indicators include a sub-question that asks you to assess whether data is required to follow or follows standards. Such standards establish common formats for describing, recording, and publishing data, making it easier for more actors to use and reuse data.
For some kinds of data, there is widespread international agreement on which standards should be used. In these cases, the relevant standard is specified in the guidance for the specific indicator, to help researchers know which standard can be scored as "Yes." Some kinds of data, however, do not yet have widespread agreement on standards. In these cases, when indicators ask about standards, researchers should assess if any standard at all is used.
Sex and/or gender¶
Some of our element sub-questions ask about "sex and/or gender." As noted in the "Equity and Inclusion" section of the handbook (within "Cross-cutting Issues"), while sex and gender are increasingly recognized as spectrums not dependent on each other, some organizations and cultures use sex and gender interchangeably. Consequently, in many cases, sex data is listed under the heading of gender, obscuring or blurring gender data.
When a researcher finds that both sex and gender data are available, sources for each should be provided and researchers should note this in the justification box. Identifying examples of either one, however, constitutes a "Yes" answer to such element sub-questions.
Marginalized populations¶
While marginalization occurs around the world, the specifics of marginalization vary within each country. At the beginning of the survey researchers are asked to identify patterns of marginalization in their country. Regional coordinators should check these to make sure they are comprehensive. Sub-questions that ask about marginalized populations should be cross-checked against this list.
Artificial intelligence¶
To explore artificial intelligence as a cross-cutting issue, some of the Barometer's governance and use indicators include sub-questions that ask about artificial intelligence and machine learning. The definition of artificial intelligence varies depending on the context of its use; we have designed our indicators to be flexible to this fact.
For governance indicators, we expect the frameworks to provide a definition, probably drawing from other relevant national or regional laws. To respond to these sub-questions, researchers don't need to assess the definition given against an established one, but only to explore if the issue is addressed, and then briefly describe how.
The relevant use indicators explore if identified datasets have been used with artificial intelligence or machine learning. Here, the researcher should start by identifying the uses the indicator examines and then look for explanations of the processes involved in these uses for mention of these technologies.
Assessing barriers: COVID-19 and missing data¶
A small number of element sub-questions investigate barriers or blocks to data policies and practices, in relation to COVID-19 or missing data.
One of the sub-questions related to COVID-19 is in a governance indicator, used only once; otherwise, most of the availability indicators ask a sub-question about the effect of COVID-19 on data availability (this sub-question is always the same). Wherever possible, we provide resources that have already assessed relevant COVID-19–related effects on data policies or practices in an individual indicator's research guidance.
Where no such resource is provided for an availability indicator—or where resources are not sufficiently comprehensive—the researcher should pursue two strategies: For both strategies, start by identifying where the relevant data has been located in the past or should be located and check first for announcements of relevant COVID-related changes. If there are no such announcements, first, conduct web searches for news articles reporting on COVID-related changes in collecting or publishing data in your country. Second, using the Wayback Machine of the Internet Archive, compare what the relevant site looked like in 2017, 2018, 2019, 2020, and 2021 to see if you can identify a pattern that has been disrupted in conjunction with the pandemic. Document your research steps in the research journal and explain your conclusions in the justification box.
Each availability indicator also asks about whether or not there is evidence of missing data. In some cases, the Barometer's availability indicators pair directly with a related governance indicator. In those cases, assess against the data requirements of the relevant governing framework. In other cases, the indicator itself identifies a dataset(s) to assess against.
In cases where there is no such identified dataset or related governance indicator, assess based on the parameters laid out in the publication of the information (e.g., are some fields entirely empty when they shouldn't be?), your local knowledge (e.g., if the data is supposed to include information for all public officials, does the number of total entries look right?), and any broader research you may have done for this theme (e.g., have media articles exposed the incompleteness of the data?).
Extent Sub-questions¶
An indicator's extent sub-question is designed to explore whether what is being evaluated demonstrates comprehensive coverage or whether it has limitations. For example, a capability indicator's extent sub-question might ask whether a country's data science training is available across the country or only in a limited number of locations; an availability indicator's extent sub-question might ask whether a dataset that scores highly in the elements checklist is an exceptional outlier in a federal system or an example of the norm.
The research guidance for individual indicators includes details on any specific coverage concerns. See also the preceding section on "Locating the best example" for guidance on how to approach coverage when selecting examples to evaluate.
Meaningful positive impact¶
The Barometer's use indicators include an extent sub-question that asks whether there is evidence that the identified uses have had or are having meaningful positive impacts. To answer this, researchers should first look for evidence that reports on or contextualizes an identified use's impacts. Sometimes the evidence of the use will also include evidence of its impact, sometimes it will require additional research.
For example, if an investigative journalist has used lobbying data to expose government corruption, the researcher should look for evidence that this use has prompted action or response of some kind. This might include, for example, charges brought against officials, the launch of a committee to investigate or establish reforms, a poll that shows that this information has changed public opinion, etc.
Second, researchers should exercise their expert judgement as to whether the impacts associated with this use have been primarily cosmetic (lacking the substance to be either positive or negative), positive, or negative (causing identifiable harms). In the justification box, explain your reasoning and provide any available evidence.
Supporting Evidence¶
The supporting evidence section allows you to attach up to five structured links or files that should be published alongside the justification and indicator data, that provide evidence for the given assessment and that can be checked by reviewers. This might include:
Links to policies, strategies, or laws for a governance indicator;
Links to datasets for an availability indicator;
Links to reports or discussions on data capability;
Copies of PDF reports where they cannot be linked to online;
Links to academic papers.
Evidence should be in the public domain and should not include private documents. Each item of evidence can have a title and either attached file or URL.
Choose the five most important sources to attach as structured evidence. In the justification box, cite all of the relevant sources.
Justifications & Sources¶
For every indicator, researchers should provide a list of the supporting evidence used and write a short prose explanation of the example assessed, and how certain judgements have been made.
Justification¶
The justification should include brief notes to support the assessments made, citing numbered items of supporting evidence to back up each key point. This justification is first used by the reviewers to check your assessment, and is then published alongside the raw data from the survey to support re-users of the data to understand the basis for each assessment.
Justifications should be written in clear English prose that does not use first person, but rather is written in a neutral impersonal way. Use a spellchecker or grammar checker if required.
You will need to create your own justifications based on the findings of your research, using content quotations when appropriate to support your argument but not relying solely on them. All justifications need to be self-contained and self-explanatory, with no cross-references between them. While sources must be cited to support justifications, a reader should be able to fully understand the justification without looking at the supporting evidence.
The following example is a real justification provided by a researcher for the ODB:
For example:

"In 2017, Government of Canada's Social Sciences and Humanities Research Council (SSHRC) partnered with Compute Canada, Ontario Centres of Excellence and ThinkData Works launched the first "Human Dimensions Open Data Challenge", organized as part of SSHRC's Imagining Canada's Future initiative (1). On 23 May 2017, two winning teams were awarded $3,000, and, as part of the challenge, will be provided access to Compute Canada cloud resources for the remainder of the calendar year. The top team was awarded an additional $5,000 and given four tickets and an invitation to present at the High Performance Computing Symposium (HPCS) on 5-9 June in Kingston, Ontario (2). In October 2017, Canada's Open Data Exchange (ODX) has launched their second investment into the Ontario startup ecosystem through the ODX Ventures program. Through a planned $438,000 investment into 10 Ontario-based companies, the program aims to accelerate data-focused projects which have traditionally struggled to secure funding. In December 2016, the first ODX Ventures cohort included $400,000 worth of investment across eight startups, and to date, has led to 26 unique contractors developing work in the open data space (3). To support a culture of innovation, there is an online apps gallery hosts mobile apps, web apps and visualizations made with federal data (4). There is also a Community Page where dataset, discussions and apps are gathered based on interest (e.g. agriculture, education, nature and environment).

Sources¶

(1): http://www.sshrc-crsh.gc.ca/society-societe/community-communite/hdodc-ddodh-eng.aspx (2): https://www.computecanada.ca/events/human-dimensions-open-data-challenge/ (3): https://codx.ca/odx-invests-in-ontario-open-data-ventures/ (4): http://open.canada.ca/en/apps "
You should always provide a justification, even when you answer "No" to an existence question.
Citation guidance¶
Citing desk research and interviews¶
Selected sources should always reflect the project's study period.
Please use exactly the following format when citing interviews: Interview sources must include the full name of the interviewee, the name of the interviewee's employer, and job title. Example: Interview with Jane Doe, Ministry of Justice, Director General.
Anonymity: When it is not feasible to publish the name of an interviewee, out of justified fear for the interviewee's safety or negative professional ramifications, please include the name of the interviewee in the research journal. In the justifications box, simply state "anonymous" for the interviewee name while providing as many other details as possible (e.g., Anonymous, Ministry of Finance, government official). The Barometer will maintain confidentiality; no names provided in the research journal for anonymous sources will be published.
Researchers should exercise professional judgment to determine whether opinions of an interviewee are factual and accurate. We strongly suggest researchers corroborate information obtained in interviews with desk research and do not rely on a single personal opinion.
Please use the following format when citing media articles: name of author, name of publication, title of article, date published, and a URL/hyperlink or a digital/PDF attachment if a link is not available or has expired.
Please use the following format when citing journal articles, written documents, or other third-party desk research: provide the full citation: name of author(s), year of publication, title, journal/publishing house; whenever possible please also provide a URL/hyperlink or attach an electronic copy if a link is unavailable. For example: Berg, Janina and Daniel Freund. 2015. EU legislative footprint: What's the real influence of lobbying? _Transparency International EU _https://transparency.eu/wp-content/uploads/2016/09/Transparency-05-small-text-web-1.pdf
Citing laws or regulations¶
Researchers must identify the law (full name, article, etc.), case law, specific legal articles, or statutes and provide a direct quote or a detailed explanation of the law in the comments box, as needed.
Researchers must refer, where appropriate, to case law, specific legal articles, or statutes.
Researchers are to reflect and describe applicable traditional and customary law when necessary.
Laws cited must be domestic laws rather than international law.
Please use this specific format when citing laws or regulations: name of law, article, section number, year, hyperlink to law. Example: Constitution Acts, Part I: Canadian Charter of Rights and Freedoms, Section 6. 1982. http://laws.justice.gc.ca/eng/Const/page-11.html#sc:7:s_6
The Research Journal¶
For each indicator, the survey tool provides a research journal. Researchers should use this to briefly record the steps they take to carry out their research. The research journal is not published, but is used to support the review process. The research journal holds particular relevance when reviewing indicators where no evidence of existence was found, since reviewers will need to inspect the research process followed to reach this conclusion.
For example...

In this example, the research journal entry describes the steps taken to respond to an indicator. "Followed source guidance to look at DLA Piper Data Protection Laws database & Greanleaf tables of privacy laws: used this to review the element sub-questions. Searched with Google for "UK Data Protection Migrants" based on past awareness of an "immigration exemption" and looked at the first three results. Sources used included in the supporting evidence section. Searched for "Data protection COVID-19" and reviewed content from the ICO: looked for the best source to use, and confirmed dates of documents. Checked results when talking with a civil society informant on June 22nd to discuss a number of different questions. Discussed whether migrants' judgement should be "No" or "Partially" — see justification for conclusion."
Ended: Guidance
Indicators
All Indicators¶
The Global Data Barometer draws on both primary indicators and indicators built from secondary data sources. This section lists all the primary indicators included in the pilot edition.
Core modules¶
Thematic modules¶
Company Information
Land
Political Integrity
Public Finance
Public Procurement

Climate Action

Health & COVID-19
Core modulesGovernance Ended: Governance CapabilitiesEnded: CapabilitiesEnded: Core modulesThematic modules Company Information Ended: Company Information Land

Availability: Land tenure¶

To what extent is detailed land tenure information available as open data?

Availability: Existing land use¶

To what extent is existing land use information available as open data?

Definitions and Identifications

Land use is commonly defined as a series of operations on land, carried out by humans, with the intention to obtain products, and/or benefits through using land resources. Land use refers to the purposes to which land is put; these may be residential, industrial, commercial, agricultural, forestry, or recreational.

This indicator focuses on data on actual uses of land rather than planned uses, asking about structured datasets that detail the kinds of activities occurring in particular locations, with associated geospatial references. Land use data should include metadata that describes the land use nomenclatures and hierarchies used, as well as information on protected areas and forested areas. To track how land use changes over time, there should also be a well-maintained archive of previous existing land uses.

A forested area or forest land "includes all land with woody vegetation consistent with thresholds used to define forest land in the national GHG inventory, sub-divided into managed and unmanaged, and also by ecosystem type as specified in the IPCC Guidelines. It also includes systems with vegetation that currently fall below, but are expected to exceed, the threshold of the forest land category"(IPCC et al. 2003: 24).

A protected area is defined as a "geographical space, recognised, dedicated and managed, through legal or other effective means, to achieve the long term conservation of nature with associated ecosystem services and cultural values" (IUCN 2008).

Example: The Australian Collaborative Land Use and Management Program (ACLUMP) makes land use maps available for exploring online, as well as making them accessible through APIs and downloads.

Note: Land use data may have different levels of detail, depending on the area covered. National land use maps tend to cover wider areas but with limited detail, while more local publications tend to offer detailed land use data in smaller units, such as parcels.

Start by looking for national-level datasets that provide information about current land uses, cover a wide range of land uses, and include geospatial references. You may find digital maps and/or other kinds of downloadable files such as .xls, .shp, .geoJSON, etc. If there is no single national dataset or repository of local datasets, look for land use datasets for smaller areas.

As a methodological warning, land use data tends to be very localized. In some cases, national maps are published by combining different local sources. In some cases, gaps are filled by commercial initiatives. Often, different publishing systems within a country may not be consistent with one another.

Starting Points

Search:

Open data portals;
National geographic institutes;
Environment agencies;
Land information offices;
Geoportals.

Consult:

Organizations that work with land issues;
Experts on land use land use change (LULUC);
Geospatial data experts;
Climate action advocates.

What to look for?

To complete the assessment for this question you will need to access and explore the available data. This may involve running queries on datasets to check the variety of land uses and other features included.

Look for evidence of:

A land uses dictionary that provides an overview of possible land uses and the nomenclature used.
A register or archive of previous uses that makes it possible to track changes in land use over time.
Information identifying forested areas, either in the main dataset assessed or in an associated one (e.g., one that is linked to, is available on the same page, or can found in the same domain).
Information identifying protected areas, either in the main dataset assessed or in an associated one (e.g., one that is linked to, is available on the same page, or can found in the same domain).

To answer the sub-question, 'How comprehensive is the data available in terms of types of land uses?' you will have to determine if the available land use data covers only one or a few land use categories (protected areas, industrial use, etc.), or if covers a wide range of land uses.

National and sub-national considerations

When available, we prioritize assessment of land use data at the national level. In cases where only aggregated statistical data exists for the national and/or sub-national level, note this in your response to the question on the geospatial data. If no national data is found—or only statistical data—you can assess a sub-national dataset. Record this in your response to the question 'How comprehensive is the data assessed for this question?' and explain as appropriate in the indicator's justification box.

Show/hide supporting questions

Existence

Is this data available online in any form?

Data is not available online.

Supporting questions:

Are there other offline ways to access this data in the country? (e.g., attending an office to inspect it).

Data is available, but not as a result of government action.

Supporting questions:

If government is not providing access to data, how is this data available?

Please provide a URL(s) for where this data can be found.

Data is available from government, or because of government actions.

Supporting questions:

Please provide a URL(s) for where this data can be found.

Elements

Data fields and quality:

Each record is categorized according to a standardized land use dictionary. (No, Partially, Yes)

Forested areas can be identified in available data or in a related dataset. (No, Partially, Yes)

Protected areas can be identified in available data or in a related dataset. (No, Partially, Yes)

Each record includes a geospatial reference. (No, Partially, Yes) Answer 'No' if there is data about land use at a country level, but it is aggregated and cannot be mapped with detail. Answer 'Partially' if each record of land use has a geospatial reference, but lacks more granular details (e.g., only includes references at a state or province level). Answer 'Yes' if each record includes a geospatial reference associated with a precise location.

Metadata provides information about the source(s) from which the data was built. (No, Partially, Yes) Answer 'Partially' if the institutional source is stated, but not the technical approach. Answer 'Yes' if metadata includes information about the tools used to collect the data and build the dataset, such as: satellite images, remote sensing, aerial photography, LiDAR, administrative records, volunteered geographic information (VGI), etc.

Supporting questions (conditional)

If Partially or Yes: What kinds of sources are mentioned?

Data openness, timing, and structure:

Dataset is available free of charge. (No, Partially, Yes)

Supporting questions (conditional)

If Partially: Please briefly explain your 'Partially' answer.

Data is openly licensed. (No, Partially, Yes)

Supporting questions (conditional)

If No: If there are explicit restrictions placed on re-use of the dataset, briefly describe those here.

If Partially or Yes: If the data is provided with an explicit open license, please provide the name of the license, or a link to it here.

Data is available in all the country's official or national languages. If the country has no official or national languages, data is available in the major languages of the country. (No, Partially, Yes) Assess this against the list of official, national, or in-use languages you provided as part of your response to the governance indicator that asks, "To what extent do relevant laws, regulations, policies, and guidance require that data collection and publication processes be available in the country's official or national languages?"

Supporting questions (conditional)

If Partially or Yes: Please briefly describe the language coverage available.

There are accessible and open official tools available to help users explore data. (No, Partially , Yes) Answer 'Partially' if tools make it possible to get at extracts of data without having to download a full dataset. Answer 'Yes' if there is an interactive tool that displays user-filtered extracts of the data to answer simple questions without downloading data at all.

Supporting questions (conditional)

If Partially or Yes: Please provide URL.

If Partially : What are the main barriers to accessibility and usability?

Data is timely and updated. (No, Partially, Yes)

Supporting questions (conditional)

If Partially or Yes: When was the most recent update to this dataset?

Historical data is available that allows users to track change over time. (No, Partially, Yes)

Supporting questions (conditional)

If Partially: Please briefly explain your 'Partially' answer.

If Partially or Yes: For what time period(s) (e.g., start and end dates) is data available?

Data is provided in machine-readable format(s) (No, Partially, Yes)

Supporting questions (conditional)

If Partially or Yes: Please provide a URL where this machine-readable data can be found. (Additional URLs can be included in the justification and supporting evidence)

If Partially or Yes: Please provide a comma separated list of the formats available? (E.g. csv, json)

If Partially: What prevents you from assessing this data as fully machine-readable?

The machine-readable dataset is available as a whole (No, Partially, Yes) Answer no if it's only possible to access individual records; Answer partially if it's possible to export extracts of the data; Answer yes if there are bulk downloads or APIs providing access to the whole dataset without financial, technical or legal barriers.

Supporting questions (conditional)

If Partially or Yes: Please provide a URL where bulk download access is available or described.

If Partially or Yes: If bulk access is provided through an API, please provide a link to where the API is described.

If Partially: Please briefly explain your 'Partially' answer.

Negative scoring:

This information is missing required data. (There is no evidence of data gaps., There is evidence that a portion of mandated data is missing., There is evidence of widespread omissions in mandated data.) In cases where the indicator itself identifies a dataset(s) to assess against or a separate governance indicator has asked you to determine data requirements of a relevant governing framework, assess against that. In cases where there is no such identified dataset(s) or related governance indicator, assess based on the parameters laid out in the publication of the information (e.g., are some fields entirely empty when they shouldn't be?), your local knowledge (e.g., if the data is supposed to include information for all public officials, does the number of total entries look right?), and any broader research you may have done for this theme (e.g., have media articles decried the incompleteness of the data?).

Supporting questions (conditional)

If There is evidence that a portion of mandated data is missing. or There is evidence of widespread omissions in mandated data.: Please briefly explain.

The availability of this data has been affected by government response to COVID-19. (No, Partially, Yes)

Supporting questions (conditional)

If Partially or Yes: Please briefly describe how COVID-19 affected the availability of this data.

Extent

How comprehensive is the data assessed for this question?

The data assessed covers one or more localities, but there are many other localities without available data, or with data of a lesser quality.

Supporting questions:

Which locality does this data cover?

The data assessed covers one or more localities, and is a representative example of the kind of data that can be found for most but not all localities.

Supporting questions:

Which localities does this data cover?

The data assessed provides national coverage.

How comprehensive is the data available in terms of types of land uses? Answer that the data available covers 'one or a limited number of land uses' if you have only found data on particular land uses (e.g., information on protected areas or mining zones may be released in a single dataset by the agency in charge). Answer that data covers 'the majority or all relevant land uses in the country' when you can confirm that data covers most or all of the relevant land use categories in your country.

The dataset(s) available cover one or a very limited number of land uses.

Supporting questions:

Which land uses are covered by the dataset(s) available?

The dataset(s) available cover a wide range of land uses, but not the majority of them.

Supporting questions:

Which land uses are covered by the dataset(s) available?

The dataset(s) available cover the majority or all relevant land uses in the country.

Supporting questions:

Which land uses are covered by the dataset(s) available?

Good governance in land use is critical to achieving goals related to socioeconomic development, maintaining ecological systems, and enabling adaptation to climate change (Quan 2017). International organizations have identified effective land use and management as key for achieving the 2030 Agenda for Sustainable Development and addressing issues such as desertification, food security, and employment and migration challenges.

Both land use restrictions as well as land use decision-making processes should be transparent, efficient, and predictable (Deininger et al. 2011). Thus, the Food and Agriculture Organization encourages states to conduct regulated spatial planning and monitor and enforce compliance with those plans. This should be done in a manner that promotes diverse and well-balanced sustainable territorial development, taking into consideration the variety of tenure systems, as well as particular issues such as the gendered aspects of land use andindigenous peoples' land rights and uses (FAO 2012).

When used in conjunction with land tenure or land ownership data, land use data opens up avenues for addressing environmental issues, corruption, land access, food sovereignty, housing, health, and a plethora of other challenges.

This indicator focuses on current and historical land use data, with special attention to forest and protected areas.

Use: Influencing policy for equity and inclusion¶

To what extent is there evidence that land data is being used to influence policy in the interests of equitable and inclusive land tenure and use?

Definitions and Identification

When available, land data can help identify inequity and exclusion, as well as paths to reduce them. This indicator tracks evidence of land data being used to influence policy in the interests of more equitable and inclusive land tenure and use. Examples may come from governments as well as other actors.

This indicator focuses on uses of land tenure and use data, assessed in the land module's availability indicators. The following examples sketch possible use cases, organized around gender and indigeneity:

Many different actors may use land data to influence land policies, through a variety of means. Consequently, evidence for answering this indicator may take many different forms—such as reports, events, tools, and forums—and be produced by a range of stakeholders, including journalists, lobbyists, NGOs, grassroot organizations, academics, and others. What will be common to all of the use cases gathered for this indicator, however, is that they use land data to promote equity and inclusion. This may, for example, involve raising awareness of issues, proposing policy reforms, tracking the relevant effects of policies that already exist.

Starting points

Search:

News media for articles on "women" + "tenure insecurity" or "land rights," and "indigenous" + "tenure insecurity" or "land rights." Note: search as well for the specific Indigenous peoples in the country.
Google Scholar, arXiv, ResearchGate for recent papers on "land use" + [country] for examples of academic research drawing on land use data and inclusion.
Websites of local community or civil society organizations focused on land rights.

Consult:

Journalists who cover issues of land rights, tenure insecurity, sex and/or gender and land, indigeneity and land.
Community or civil society organizations that focus on land rights.
Scholars at local universities that work with land and city planning.

What to look for?

Taking into account both land tenure data and land use data, look for evidence that can answer the following questions:

Is this type of data being used regularly by journalists, civil society organizations, academics, and other stakeholders to address equity and inclusion issues and to influence policy towards more equitable land tenure and land use? Or is it perhaps only used infrequently? Or never, as far as you can determine?
What kinds of impacts on policies do you see from these uses, and how significant are these impacts?
To what extent is there evidence that land data is being used to influence policy in the interests of more equitable land tenure and use?

National and sub-national considerations

For this indicator, you may track and assess national and sub-national examples without distinction; note in the justification box if the examples you found mostly used national or sub-national data.

Show/hide supporting questions

Existence

Is there evidence of this data being used to influence policy in the interests of more equitable land tenure and use?

No evidence of actors or entities using this data to influence policy in the interests of more equitable land tenure and use.
There are isolated cases of actors or entities using this kind of data to influence policy in the interests of more equitable land tenure and use.

Supporting questions:

Please provide the URL(s) of these use cases, and explain what kind of stakeholders are using this data: academics, civil society organizations, journalists, etc.

There are a number of cases of actors or entities using this kind of data to influence policy in the interests of more equitable land tenure and use.

Supporting questions:

Please provide the URL(s) of these use cases, and explain what kind of stakeholders are using this data: academics, civil society organizations, journalists, etc.

There are widespread and regular cases of actors or entities using this kind of data to influence policy in the interests of more equitable land tenure and use.

Supporting questions:

Please provide the URL(s) of these use cases, and explain what kind of stakeholders are using this data: academics, civil society organizations, journalists, etc.

Elements

User groups:

There is evidence of civil society organizations using data in this way. (No, Partially, Yes)

Supporting questions (conditional)

If Partially or Yes: If available, please provide URLs for one or more examples of the most significant uses you're aware of.

If Partially: Please briefly explain your 'Partially' answer.

There is evidence of media using data in this way. (No, Partially, Yes)

Supporting questions (conditional)

If Partially or Yes: If available, please provide URLs for one or more examples of the most significant uses you're aware of.

If Partially: Please briefly explain your 'Partially' answer.

There is evidence of academics using data in this way. (No, Partially, Yes)

Supporting questions (conditional)

If Partially or Yes: If available, please provide URLs for one or more examples of the most significant uses you're aware of.

If Partially: Please briefly explain your 'Partially' answer.

There is evidence of the private sector using data in this way. (No, Partially, Yes)

Supporting questions (conditional)

If Partially or Yes: If available, please provide URLs for one or more examples of the most significant uses you're aware of.

If Partially: Please briefly explain your 'Partially' answer.

Specific features:

At least one of the examples identified describes using artificial Intelligence or machine learning to process data (No, Partially, Yes) Answer 'Partially' if you have doubts about the accuracy of claims to be using AI/machine-learning.

Supporting questions (conditional)

If Partially or Yes: Please provide brief details of the example(s) and how they describe using AI/machine-learning.

Extent

Is there evidence that these uses have had or are having meaningful positive impacts on land policy? Even though it may be hard to link advocates´ actions to an effective policy change towards more equitable land tenure and land use, evidence could be tracked about policy updates after public debates and lobbying strategies.

No
Partially

Supporting questions:

Please provide any URLs that document this evidence.

Please briefly explain your 'Partially' answer.

Yes

Supporting questions:

Please provide any URLs that document this evidence.

Equity and inclusion are key areas of concern for land governance. Longstanding inequities in land tenure and ownership leave women and traditionally disadvantaged groups vulnerable. In some countries, for example, legislation and cultural or religious biases bar women from owning, inheriting, and retaining land and property after divorce. Scholars question whether planned cities sufficiently address women's needs (Malaza et al. 2009; Micklow et al. n.d.; UNHabitat 2019) and have found important gender-related variation in land-use decisions in rural areas (Villamor et al. 2014). Further, around the world, indigenous peoples, migrants, and herders suffer land tenure insecurity.

This indicator aligns with SDG indicators 1.4.2: "Proportion of total adult population with secure tenure rights to land, with legally recognized documentation, and who perceive their rights to land as secure, by sex and by type of tenure" and 5.a.1 "(a) Proportion of total agricultural population with ownership or secure rights over agricultural land, by sex; (b) share of women among owners or rights-bearers of agricultural land, by type of tenure;" as well as the UN-Habitat Policy and Plan for Gender Equality and the Empowerment of Women in Urban Development and Human Settlements program. It is also supports SDG goal 11: Sustainable Cities and Communities.

Ended: Land Political Integrity Ended: Political Integrity Public Finance

Governance: Open public finance data¶

To what extent do relevant laws, regulations, policies, and guidance provide a basis for collecting and publishing data on public finances? (E.g., government budgets, government spending, debt, and borrowing.)

Availability: Budget and spending data¶

To what extent is government budget and spending information (budget execution) available as structured open data?

Ended: Public FinancePublic Procurement

Availability: Public procurement data¶

To what extent is detailed structured data on public procurement processes available as open data?

Use: Procurement data analytics¶

To what extent is there evidence of government procurement data being analyzed to improve procurement practice?

Ended: Public Procurement Climate Action

Availability: Emission¶

To what extent is emissions information available as open data?

Definitions and Identification

Emissions data reported to the UNFCCC should be easily accessible to actors and audiences within the country, so that a diverse group of climate decision-makers can take action across scales. Emissions datasets should include detailed information on sources of greenhouse gas emissions and use unique identifiers that allow easy assessment across inventories, reduction commitments, and sources.

Among other functions, it should be possible to use emissions datasets to easily and accurately assess the current state of the country's emissions and how it is changing (or not) over time, to identify major sources of greenhouse gases within the country, and to explain how the country's emissions fit within the global context.

This question is designed to align with efforts countries already put into reporting to the UNFCCC. Consequently, it takes as its starting point the emissions data already reported to the UNFCCC and focuses primarily on whether or not that data is also made open, accessible, and useful to actors within the country. It elaborates on that to include sources of emissions, but the specifics of the national dataset would largely be defined by the country's UNFCCC reporting.

Note: The focus here is on making already existent data more useful and more broadly available; data on a national site doesn't have to explicitly state that it is the same data as that reported to the UNFCCC, so long as it includes the same data.

Starting points

Sources:

The UN Framework Convention on Climate Change; depending on whether the country falls into the Annex I or non-Annex I category, the data may be reported in a dedicated inventory document, the national communications, a biennial update report, or a separate report. Links to all of these can be found here.

Search:

Websites of the ministry of environment, office of climate action, etc.; relevant keywords for searching such websites include "emissions," "greenhouse gases" or "GHGs," "sinks," "inventory," and the "UN Framework Convention on Climate Change," and similar in appropriate languages.

Consult:

Officials in your national or local environmental or climate action office.
Officials at civil society organizations dedicated to climate action, environmental protection, or nature conservation.
Journalists who report on climate change, vulnerability, or adaptation.
Academic researchers who study emissions and climate change in your country.

What to look for?

To complete the assessment for this question you will need to access and explore the available data. This may involve running queries on datasets to check the variety of fields included.

Look for evidence that can answer the following questions:

Is the emissions data reported to the UNFCCC also made open and accessible to actors within the country through national or sub-national platforms or portals? Are significant portions of it missing in the national version?
Who or what are the significant producers of emissions in the country? What level of granularity is available for emissions sources?
How straightforward is it to match emissions data across inventories, reduction commitments, and information about emission sources?

National and sub-national considerations

In some countries, emissions data may be generated and published at the sub-national level, carried out by individual states, regions, or cities.

Focus on national government first, and then assess whether:

National datasets also include data from sub-national or local government units;
Equivalent data exists for a selection of sub-national or local government units, but is not nationally aggregated;

To assess countries where emissions data is organized sub-nationally, researchers should select the strongest example of sub-national practice, and then indicate whether this is an outlier or an example of widespread practice.

Show/hide supporting questions

Existence

Is this data available online in any form?

Data is not available online.

Supporting questions:

Are there other offline ways to access this data in the country? (e.g., attending an office to inspect it).

Data is available, but not as a result of government action.

Supporting questions:

If government is not providing access to data, how is this data available?

Please provide a URL(s) for where this data can be found.

Data is available from government, or because of government actions.

Supporting questions:

Please provide a URL(s) for where this data can be found.

Elements

Data fields and quality:

Nationally published data includes detailed information on greenhouse gas emissions and targets reported to the UNFCCC. (No, Partially, Yes)

Supporting questions (conditional)

If Partially or Yes: Please briefly explain, and provide URLs.

Data contains detailed information on sources of greenhouse gas emissions. (No, Partially, Yes)

Supporting questions (conditional)

If Partially or Yes: Please briefly explain, and provide URLs.

Emissions data includes, or site where emissions data is made available links to, details of land use effects on emissions. (No, Partially, Yes)

Supporting questions (conditional)

If Partially or Yes: Please briefly explain, and provide URLs.

The dataset contains unique identifiers for greenhouse gas emissions that allow easy assessment across inventories, reduction commitments, and sources. (No, Partially, Yes)

Supporting questions (conditional)

If Partially or Yes: Please briefly explain, and provide URLs.

Data openness, timing, and structure:

Dataset is available free of charge. (No, Partially, Yes)

Supporting questions (conditional)

If Partially: Please briefly explain your 'Partially' answer.

Data is openly licensed. (No, Partially, Yes)

Supporting questions (conditional)

If No: If there are explicit restrictions placed on re-use of the dataset, briefly describe those here.

If Partially or Yes: If the data is provided with an explicit open license, please provide the name of the license, or a link to it here.

Data is available in all the country's official or national languages. If the country has no official or national languages, data is available in the major languages of the country. (No, Partially, Yes) Assess this against the list of official, national, or in-use languages you provided as part of your response to the governance indicator that asks, "To what extent do relevant laws, regulations, policies, and guidance require that data collection and publication processes be available in the country's official or national languages?"

Supporting questions (conditional)

If Partially or Yes: Please briefly describe the language coverage available.

There are accessible and open official tools available to help users explore data. (No, Partially , Yes) Answer 'Partially' if tools make it possible to get at extracts of data without having to download a full dataset. Answer 'Yes' if there is an interactive tool that displays user-filtered extracts of the data to answer simple questions without downloading data at all.

Supporting questions (conditional)

If Partially or Yes: Please provide URL.

If Partially : What are the main barriers to accessibility and usability?

Data is timely and updated. (No, Partially, Yes)

Supporting questions (conditional)

If Partially or Yes: When was the most recent update to this dataset?

Historical data is available that allows users to track change over time. (No, Partially, Yes)

Supporting questions (conditional)

If Partially: Please briefly explain your 'Partially' answer.

If Partially or Yes: For what time period(s) (e.g., start and end dates) is data available?

Data is provided in machine-readable format(s) (No, Partially, Yes)

Supporting questions (conditional)

If Partially or Yes: Please provide a URL where this machine-readable data can be found. (Additional URLs can be included in the justification and supporting evidence)

If Partially or Yes: Please provide a comma separated list of the formats available? (E.g. csv, json)

If Partially: What prevents you from assessing this data as fully machine-readable?

The machine-readable dataset is available as a whole (No, Partially, Yes) Answer no if it's only possible to access individual records; Answer partially if it's possible to export extracts of the data; Answer yes if there are bulk downloads or APIs providing access to the whole dataset without financial, technical or legal barriers.

Supporting questions (conditional)

If Partially or Yes: Please provide a URL where bulk download access is available or described.

If Partially or Yes: If bulk access is provided through an API, please provide a link to where the API is described.

If Partially: Please briefly explain your 'Partially' answer.

Negative scoring:

This information is missing required data. (There is no evidence of data gaps., There is evidence that a portion of mandated data is missing., There is evidence of widespread omissions in mandated data.) In cases where the indicator itself identifies a dataset(s) to assess against or a separate governance indicator has asked you to determine data requirements of a relevant governing framework, assess against that. In cases where there is no such identified dataset(s) or related governance indicator, assess based on the parameters laid out in the publication of the information (e.g., are some fields entirely empty when they shouldn't be?), your local knowledge (e.g., if the data is supposed to include information for all public officials, does the number of total entries look right?), and any broader research you may have done for this theme (e.g., have media articles decried the incompleteness of the data?).

Supporting questions (conditional)

If There is evidence that a portion of mandated data is missing. or There is evidence of widespread omissions in mandated data.: Please briefly explain.

The availability of this data has been affected by government response to COVID-19. (No, Partially, Yes)

Supporting questions (conditional)

If Partially or Yes: Please briefly describe how COVID-19 affected the availability of this data.

Extent

How comprehensive is the data assessed for this question?

The data assessed covers one or more localities, but there are many other localities without available data, or with data of a lesser quality.

Supporting questions:

Which locality does this data cover?

The data assessed covers one or more localities, and is a representative example of the kind of data that can be found for most but not all localities.

Supporting questions:

Which localities does this data cover?

The data assessed provides national coverage.

Emissions, and more specifically, greenhouse gas emissions, are the iconic dataset for understanding climate change. The speed at which countries, cities, companies, and other actors reduce greenhouse gas emissions has lock-in effects, and both determining the extent of potential benefits and expanding or reducing the time available for other acts of mitigation and adaptation. Consequently, stabilizing emissions has been a key component of the UN Framework Convention on Climate Change (UNFCCC) since 1992, with considerable efforts put into sharing emissions data by the scientific and international communities.

Increasingly, a diverse assortment of actors seeks to understand emissions' impacts at a more granular level. However, the greenhouse gas inventories and adaptation data countries share with the UNFCCC via their National Communications often aren't available more locally in user-friendly ways. This indicator thus examines the local or domestic availability of such data.

Availability: Biodiversity¶

To what extent is information on endangered species and ecosystems available as open data?

Definitions and Identification

Information about endangered species and ecosystems should be comprehensive and easily accessible to support integrated approaches to climate and biodiversity. Red lists should include a wide range of taxa, beyond the more commonly studied terrestrial vertebrates and vascular plants. A complementary green list, focused on recovering species, should be available to help identify successful practices and understand patterns of change. To support collaborative data collection work across actors, the data repository should have a mechanism to support contributions from additional actors. Data should follow the Darwin Core Standard or other common standard, and be nationally validated through government participation, publishing, or some other means.

Among other functions, it should be possible to use red lists to easily and accurately assess the current state of the country's species and how it has changed over time, to identify vulnerable species and ecosystems, and to compare data about species' population and distribution across national borders.

In some countries, national red lists may be maintained by governments; in others such lists may be led and managed by conservation groups or other civil society organizations. The latter may reflect the long history of collaboration across communities and borders with regard to species data, making conservation groups well-positioned to facilitate such a list. In other cases, it may reflect newer biodiversity data sources. In either case, it's important to assess whether the data is validated such that the government can use it for public good as well. This could be achieved in various ways. For example:

A national ministry of nature and environment could be partnering on the red list effort—collaborating on the generation of data, providing funding or other support, etc.
An environmental protection agency might publish the data on their site.

Starting points

Sources:

The IUCN's list of national red lists can serve as a starting place, to be checked against the relevant national ministry or agency.
National reports to the Convention on Biological Diversity may include relevant information, depending on the country.

Search:

Websites of ministries of the environment.
Websites of civil society organizations focused on conservation, biodiversity, climate change, environment, nature.

Consult:

Officials in your national or local environmental or conservation office.
Scholars or researchers at civil society organizations who research conservation and biodiversity in your country.
Officers at civil society organizations who work on implementing conservation or biodiversity projects within communities.
Journalists who report on conservation, biodiversity, climate change.

What to look for?

To complete the assessment for this question you will need to access and explore the available data. This may involve running queries on datasets to check the variety of fields included.

Look for evidence that can answer the following questions:

How comprehensive is the red list? Does it include only terrestrial vertebrates or vascular plants? Does it include invertebrates such as insects? Aquatic animals and plants? Non-vascular plants and fungi?
If data on threatened species and ecosystems is generated and managed by non-governmental actors, does the government participate in validating the data or otherwise recognize it as nationally validated? For example, is a relevant government agency a collaboration partner, is the data accessible through government sites, etc.
Does the data use an accepted standard such as the Darwin Core Standard?
Is there a "green" list that details recoveries of species or ecosystems? Is there a de facto green list through information about how the status of species or ecosystems has changed over time?
If you wanted to contribute data, is there a clear means for you to do so?

National and sub-national considerations

In some countries, data about endangered species may be generated and published at the sub-national level, carried out by or for specific states or regions.

Focus on national government first, and then assess whether:

National datasets also include data from sub-national or local government units;
Equivalent data exists for a selection of sub-national or local government units, but is not nationally aggregated;

To assess countries where data about endangered species is organized sub-nationally, researchers should select the strongest example of sub-national practice, and then indicate whether this is an outlier or an example of widespread practice.

Show/hide supporting questions

Existence

Is this data available online in any form?

Data is not available online.

Supporting questions:

Are there other offline ways to access this data in the country? (e.g., attending an office to inspect it).

Data is available, but not as a result of government action.

Supporting questions:

If government is not providing access to data, how is this data available?

Please provide a URL(s) for where this data can be found.

Data is available from government, or because of government actions.

Supporting questions:

Please provide a URL(s) for where this data can be found.

Elements

Kinds of data:

Data includes mammals. (No, Partially, Yes) Score this as 'Partially' if you only see a relatively small number of examples.

Supporting questions (conditional)

If Partially or Yes: If biodiversity data can be found in multiple datasets, please provide the URL where mammals data is located.

If Partially: Please briefly explain your 'Partially' answer.

Data includes birds. (No, Partially, Yes) Score this as 'Partially' if you only see a relatively small number of examples.

Supporting questions (conditional)

If Partially or Yes: If biodiversity data can be found in multiple datasets, please provide the URL where birds data is located.

If Partially: Please briefly explain your 'Partially' answer.

Data includes reptiles. (No, Partially, Yes) Score this as 'Partially' if you only see a relatively small number of examples.

Supporting questions (conditional)

If Partially or Yes: If biodiversity data can be found in multiple datasets, please provide the URL where reptiles data is located.

If Partially: Please briefly explain your 'Partially' answer.

Data includes amphibians. (No, Partially, Yes) Score this as 'Partially' if you only see a relatively small number of examples.

Supporting questions (conditional)

If Partially or Yes: If biodiversity data can be found in multiple datasets, please provide the URL where amphibians data is located.

If Partially: Please briefly explain your 'Partially' answer.

Data includes fish. (No, Partially, Yes) Score this as 'Partially' if you only see a relatively small number of examples.

Supporting questions (conditional)

If Partially or Yes: If biodiversity data can be found in multiple datasets, please provide the URL where fish data is located.

If Partially: Please briefly explain your 'Partially' answer.

Data includes invertebrates. (No, Partially, Yes) Score this as 'Partially' if you only see a relatively small number of examples.

Supporting questions (conditional)

If Partially or Yes: If biodiversity data can be found in multiple datasets, please provide the URL where invertebrates data is located.

If Partially: Please briefly explain your 'Partially' answer.

Data includes fungi and lichen. (No, Partially, Yes) Score this as 'Partially' if you only see a relatively small number of examples.

Supporting questions (conditional)

If Partially or Yes: If biodiversity data can be found in multiple datasets, please provide the URL where fingi and lichen data is located.

If Partially: Please briefly explain your 'Partially' answer.

Data includes non-vascular plants. (No, Partially, Yes) Score this as 'Partially' if you only see a relatively small number of examples.

Supporting questions (conditional)

If Partially or Yes: If biodiversity data can be found in multiple datasets, please provide the URL where non-vascular plants data is located.

If Partially: Please briefly explain your 'Partially' answer.

Data includes vascular plants. (No, Partially, Yes) Score this as 'Partially' if you only see a relatively small number of examples.

Supporting questions (conditional)

If Partially or Yes: If biodiversity data can be found in multiple datasets, please provide the URL where vascular plants data is located.

If Partially: Please briefly explain your 'Partially' answer.

Data includes a "green" list, or detailed information on species or ecosystems recovering from danger, threat, or vulnerability. (No, Partially, Yes)

Supporting questions (conditional)

If Partially or Yes: Please briefly explain and provide URLs to this data.

If Partially: Please briefly explain your 'Partially' answer.

Data fields and quality:

The data is published according to one or more relevant data standards. (No, Partially, Yes)

Supporting questions (conditional)

If Partially or Yes: Which standards are in use?

If Partially: Please briefly explain your 'Partially' answer.

Data is nationally validated by the government. (No, Partially, Yes) For example, if the data originates in a collaboration involving non-governmental actors, the government may nationally validate it through governmental participation or publishing.

Supporting questions (conditional)

If Partially: Please briefly explain and provide relevant URLs.

If Yes: Please provide relevant URLs.

A mechanism allows additional actors to contribute to the data repository. (No, Partially, Yes)

Supporting questions (conditional)

If Partially or Yes: Please briefly explain and provide relevant URLs.

Limitations of the data are clearly stated. (No, Partially, Yes)

Supporting questions (conditional)

If Partially or Yes: Please briefly explain and provide relevant URLs.

Data openness, timing, and structure:

Dataset is available free of charge. (No, Partially, Yes)

Supporting questions (conditional)

If Partially: Please briefly explain your 'Partially' answer.

Data is openly licensed. (No, Partially, Yes)

Supporting questions (conditional)

If No: If there are explicit restrictions placed on re-use of the dataset, briefly describe those here.

If Partially or Yes: If the data is provided with an explicit open license, please provide the name of the license, or a link to it here.

Data is available in all the country's official or national languages. If the country has no official or national languages, data is available in the major languages of the country. (No, Partially, Yes) Assess this against the list of official, national, or in-use languages you provided as part of your response to the governance indicator that asks, "To what extent do relevant laws, regulations, policies, and guidance require that data collection and publication processes be available in the country's official or national languages?"

Supporting questions (conditional)

If Partially or Yes: Please briefly describe the language coverage available.

There are accessible and open official tools available to help users explore data. (No, Partially , Yes) Answer 'Partially' if tools make it possible to get at extracts of data without having to download a full dataset. Answer 'Yes' if there is an interactive tool that displays user-filtered extracts of the data to answer simple questions without downloading data at all.

Supporting questions (conditional)

If Partially or Yes: Please provide URL.

If Partially : What are the main barriers to accessibility and usability?

Data is timely and updated. (No, Partially, Yes)

Supporting questions (conditional)

If Partially or Yes: When was the most recent update to this dataset?

Historical data is available that allows users to track change over time. (No, Partially, Yes)

Supporting questions (conditional)

If Partially: Please briefly explain your 'Partially' answer.

If Partially or Yes: For what time period(s) (e.g., start and end dates) is data available?

Data is provided in machine-readable format(s) (No, Partially, Yes)

Supporting questions (conditional)

If Partially or Yes: Please provide a URL where this machine-readable data can be found. (Additional URLs can be included in the justification and supporting evidence)

If Partially or Yes: Please provide a comma separated list of the formats available? (E.g. csv, json)

If Partially: What prevents you from assessing this data as fully machine-readable?

The machine-readable dataset is available as a whole (No, Partially, Yes) Answer no if it's only possible to access individual records; Answer partially if it's possible to export extracts of the data; Answer yes if there are bulk downloads or APIs providing access to the whole dataset without financial, technical or legal barriers.

Supporting questions (conditional)

If Partially or Yes: Please provide a URL where bulk download access is available or described.

If Partially or Yes: If bulk access is provided through an API, please provide a link to where the API is described.

If Partially: Please briefly explain your 'Partially' answer.

Negative scoring:

The availability of this data has been affected by government response to COVID-19. (No, Partially, Yes)

Supporting questions (conditional)

If Partially or Yes: Please briefly describe how COVID-19 affected the availability of this data.

Extent

How comprehensive is the data assessed for this question?

The data assessed covers one or more localities, but there are many other localities without available data, or with data of a lesser quality.

Supporting questions:

Which locality does this data cover?

The data assessed covers one or more localities, and is a representative example of the kind of data that can be found for most but not all localities.

Supporting questions:

Which localities does this data cover?

The data assessed provides national coverage.

Biodiversity, or the variety and interconnectedness of life, intertwines with the climate crisis: Species and ecosystems play key roles in regulating the climate. Consequently, habitat loss and ecosystem degradation compromise the ability of the planet to repair anthropogenic and other damage. The IPBES 2019 Global Assessment found that "Biodiversity—the diversity within species, between species and of ecosystems—is declining faster than at any time in human history" (10). At the same time, climate change is the third leading driver of biodiversity loss (IPBES 2019). And, as the WWF Living Planet Index recently explained, climate change is projected to become "as, or more, important than the other drivers" (2020:12). Despite this critical importance of biodiversity to climate and planet, governments failed to achieve any of the Aichi 2020 Targets for Biodiversity (Convention on Biological Diversity 2020).

The research community widely agrees that significant data shortfalls hinder our understanding of biodiversity and our ability to take action on biodiversity loss. Hortal et al. (2015) identify gaps with regard to the identity and distribution of species as critical, for such information serves as the foundation for understanding larger patterns and processes (537). They note, too, that when data is available, it tends to be heavily biased toward terrestrial vertebrates and vascular plants (535). Similarly, the IPBES, as part of a larger overview of knowledge gaps, in the category of "data, inventories, and monitoring on nature and the drivers of change" identified gaps in four key data inventories: the World Database on Protected Areas, the World Database of Key Biodiversity Areas™, red lists of threatened species and ecosystems, and the Global Biodiversity Information Facility (2019: 55).

The global red list of endangered species that the International Union of Nature (IUCN) publishes has been used around the world to understand biodiversity and prioritize conservation goals. However, meaningful action at national and sub-national levels often requires significantly more local information; and while biodiversity data resources continue to grow, many are not created in conjunction with national ministries of environment, making them difficult to use. In analyzing a user needs assessment of more than 60 parties to the Convention on Biological Diversity with regard to using spatial data for conservation and sustainable development purposes, the UN Biodiversity Lab noted that "This 'data gap' takes a toll on national efforts to protect and restore nature and related ecosystem services. Regardless of how much data is generated at the global scale, countries need a mechanism to assess its relevancy to their country, supplement it with local data, prioritize areas essential for protection and restoration, and engage with diverse stakeholders to demonstrate the importance of nature to society." (2018, concept note 2) The IUCN itself calls for standardized national and regional red lists to complement their global list and facilitate international conservation treaties and legislation. This indicator thus investigates whether national-level information on endangered species and ecosystems is available as open data.

Availability: Vulnerability¶

To what extent is climate vulnerability information available as open data?

Definitions and Identification

Data about climate vulnerability should integrate or otherwise address the two major strands of vulnerability approaches: the risks and hazards approach, which focuses on responding to natural hazards and extreme weather events; and the entitlements and livelihoods approach, which focuses on preventing undesirable outcomes by identifying where people have too few resources to withstand or recover from disaster—for example, in conjunction with poverty, gender, and marginalization.

Further, climate vulnerability data should include granular local data and be available in user-friendly outputs; any projections should draw on transparent, open models. To support collaborative data collection work across actors, the data repository should have a mechanism to support contributions from additional actors.

Examples of relevant vulnerability data* include but are not limited to:

Data on urban water quality, access, and scarcity;
Data on the use of agricultural practices and crop varieties that are resistant to extreme temperatures, rains, and pests;
Data on population access to early warning systems for disease vectors and extreme weather events;
Data on the scope of coastal protection or rollback programs;
Demographic data, including sex- and/or gender-disaggregated data on livelihoods, access to public services, etc.;
Population and infrastructure density in risk-prone areas (e.g., areas vulnerable to storm surges or landslides).

*Drawn from the Open Up Guide: Using Open Data To Advance Climate Action.

Among other functions, it should be possible for individuals to use climate vulnerability data to easily and accurately assess the climate vulnerability of their neighborhood, the neighborhoods of their loved ones, and neighborhoods they might consider for relocation; to identify specific needs for adaptation tools and services; and to propose and track government responses.

In some countries, governments may rely on proprietary sources to generate some or all of their climate vulnerability data; alternatively, in some countries, the available climate vulnerability data may draw from government-generated data (e.g., meteorological data, poverty data) but be published by organizations or businesses, either openly or in proprietary forms. If either case applies to your country, please be sure to explain in the justification and relevant answer boxes.

Starting points

Sources:

The Open DRI Index can be useful for locating relevant source data that a country draws from as part of its climate vulnerability data, identifying where the country makes such information available, and, particularly, evaluating whether source data is open, restricted, or closed.

Search:

Websites of the ministry of environment, office of climate action, disaster management, foresight, etc.
Websites of organizations or businesses that offer climate vulnerability data specific to your country.

Consult:

Officials in your national or local environmental, disaster management, or foresight office.
Scholars or researchers at civil society organizations who research climate vulnerability, resilience, or disaster management in your country.
Officers at civil society organizations who work on implementing adaptation or resilience projects in communities vulnerable to climate change.
Journalists who report on climate change, disaster management, vulnerable communities, or inequitable access to climate change–related resources.

What to look for?

To complete the assessment for this question you will need to access and explore the available data. This may involve running queries on datasets to check the variety of fields included.

Look for evidence that can answer the following questions:

Does the data contain information not only on vulnerability to hazards, but also vulnerability to undesirable outcomes? On both ecological effects as well as societal effects, particularly on populations with less access to resources?
Does the data include sufficient granularity to make it an effective tool for local actors to plan actions in the present and future? Or is it primarily large-scale, drawing on satellite data that has not been informed by on-the-ground knowledge?
Are the models that projections rely on made available to the people using the climate vulnerability data? Are the models sufficiently open and transparent for an external actor to assess their validity?
Is the data made available in user-friendly outputs that don't require high levels of technical skills to understand or access? For example, an agency might make vulnerability data available as layered maps.
If you wanted to contribute data, is there a clear means for you to do so?

National and sub-national considerations

In some countries, data about climate vulnerability may be generated and published at the sub-national level, carried out by individual states, regions, or cities.

Focus on national government first, and then assess whether:

National datasets also include data from sub-national or local government units;
Equivalent data exists for a selection of sub-national or local government units, but is not nationally aggregated;

To assess countries where data about climate vulnerability is organized sub-nationally, researchers should select the strongest example of sub-national practice, and then indicate whether this is an outlier or an example of widespread practice.

Show/hide supporting questions

Existence

Is this data available online in any form?

Data is not available online.

Supporting questions:

Are there other offline ways to access this data in the country? (e.g., attending an office to inspect it).

Data is available, but not as a result of government action.

Supporting questions:

If government is not providing access to data, how is this data available?

Please provide a URL(s) for where this data can be found.

Data is available from government, or because of government actions.

Supporting questions:

Please provide a URL(s) for where this data can be found.

Elements

Data fields and quality:

The data contains information on future natural hazards, extreme weather events, and climate variability. (No, Partially, Yes)

Supporting questions (conditional)

If Partially: Please briefly explain, with URLs.

If Yes: Please provide URLs.

The data contains information on poverty, gender, and marginalized populations. (No, Partially, Yes)

Supporting questions (conditional)

If Partially: Please briefly explain, with URLs.

If Yes: Please provide URLs.

The data draws on granular local information. (No, Partially, Yes)

Supporting questions (conditional)

If Partially: Please briefly explain, with URLs.

If Yes: Please provide URLs.

Data based on projections draws on transparent and open models. (No, Partially, Yes)

Supporting questions (conditional)

If Partially or Yes: Please briefly explain, with examples and URLs.

A mechanism allows additional actors to contribute to the data repository. (No, Partially, Yes)

Supporting questions (conditional)

If Partially or Yes: Please briefly explain and provide relevant URLs.

Data openness, timing, and structure:

Dataset is available free of charge. (No, Partially, Yes)

Supporting questions (conditional)

If Partially: Please briefly explain your 'Partially' answer.

Data is openly licensed. (No, Partially, Yes)

Supporting questions (conditional)

If No: If there are explicit restrictions placed on re-use of the dataset, briefly describe those here.

If Partially or Yes: If the data is provided with an explicit open license, please provide the name of the license, or a link to it here.

Data is available in all the country's official or national languages. If the country has no official or national languages, data is available in the major languages of the country. (No, Partially, Yes) Assess this against the list of official, national, or in-use languages you provided as part of your response to the governance indicator that asks, "To what extent do relevant laws, regulations, policies, and guidance require that data collection and publication processes be available in the country's official or national languages?"

Supporting questions (conditional)

If Partially or Yes: Please briefly describe the language coverage available.

There are accessible and open official tools available to help users explore data. (No, Partially , Yes) Answer 'Partially' if tools make it possible to get at extracts of data without having to download a full dataset. Answer 'Yes' if there is an interactive tool that displays user-filtered extracts of the data to answer simple questions without downloading data at all.

Supporting questions (conditional)

If Partially or Yes: Please provide URL.

If Partially : What are the main barriers to accessibility and usability?

Data is timely and updated. (No, Partially, Yes)

Supporting questions (conditional)

If Partially or Yes: When was the most recent update to this dataset?

Historical data is available that allows users to track change over time. (No, Partially, Yes)

Supporting questions (conditional)

If Partially: Please briefly explain your 'Partially' answer.

If Partially or Yes: For what time period(s) (e.g., start and end dates) is data available?

Data is provided in machine-readable format(s) (No, Partially, Yes)

Supporting questions (conditional)

If Partially or Yes: Please provide a URL where this machine-readable data can be found. (Additional URLs can be included in the justification and supporting evidence)

If Partially or Yes: Please provide a comma separated list of the formats available? (E.g. csv, json)

If Partially: What prevents you from assessing this data as fully machine-readable?

The machine-readable dataset is available as a whole (No, Partially, Yes) Answer no if it's only possible to access individual records; Answer partially if it's possible to export extracts of the data; Answer yes if there are bulk downloads or APIs providing access to the whole dataset without financial, technical or legal barriers.

Supporting questions (conditional)

If Partially or Yes: Please provide a URL where bulk download access is available or described.

If Partially or Yes: If bulk access is provided through an API, please provide a link to where the API is described.

If Partially: Please briefly explain your 'Partially' answer.

Negative scoring:

This information is missing required data. (There is no evidence of data gaps., There is evidence that a portion of mandated data is missing., There is evidence of widespread omissions in mandated data.) In cases where the indicator itself identifies a dataset(s) to assess against or a separate governance indicator has asked you to determine data requirements of a relevant governing framework, assess against that. In cases where there is no such identified dataset(s) or related governance indicator, assess based on the parameters laid out in the publication of the information (e.g., are some fields entirely empty when they shouldn't be?), your local knowledge (e.g., if the data is supposed to include information for all public officials, does the number of total entries look right?), and any broader research you may have done for this theme (e.g., have media articles decried the incompleteness of the data?).

Supporting questions (conditional)

If There is evidence that a portion of mandated data is missing. or There is evidence of widespread omissions in mandated data.: Please briefly explain.

The availability of this data has been affected by government response to COVID-19. (No, Partially, Yes)

Supporting questions (conditional)

If Partially or Yes: Please briefly describe how COVID-19 affected the availability of this data.

Extent

How comprehensive is the data assessed for this question?

The data assessed covers one or more localities, but there are many other localities without available data, or with data of a lesser quality.

Supporting questions:

Which locality does this data cover?

The data assessed covers one or more localities, and is a representative example of the kind of data that can be found for most but not all localities.

Supporting questions:

Which localities does this data cover?

The data assessed provides national coverage.

Understanding climate vulnerability is critical to empowering and supporting climate actors and decision-makers, particularly with regard to adaptation. Consequently, the UNFCCC encourages all parties—and requires Annex 1 countries—to report on actions related to vulnerability assessments. The IPCC defines vulnerability as "The propensity or predisposition to be adversely affected. Vulnerability encompasses a variety of concepts including sensitivity or susceptibility to harm and lack of capacity to cope and adapt" (WGII AR5 Annex II).

Similarly, the Sendai Framework calls for disaster risk management that's grounded in a comprehensive understanding of disaster risk "in all its dimensions of vulnerability, capacity, exposure of persons and assets, hazard characteristics and the environment" (23) and specifically directs governments at national and local levels to "promote the collection, analysis, management and use of relevant data and practical information and ensure its dissemination, taking into account the needs of different categories of users, as appropriate" (24(b)).

This indicator thus investigates what information about climate vulnerability countries make available and how comprehensive it is.

Ended: Climate Action Health & COVID-19

Availability: Vital statistics¶

To what extent is civil registration and vital statistics (CRVS) information available as open data?

Availability: Real-time healthcare system capacity¶

To what extent is information about the real-time capacity of the healthcare system available as open data?

Definitions and Identification

To be useful, real-time or near real-time data about the capacity of the healthcare system should be available at the level of individual facilities and include details such as the number, type, and availability of beds, tests, vaccines, and devices.

Among other functions, it should be possible for different actors to use real-time data about the capacity of the healthcare system in various ways:

for everyday individuals to locate where to take loved ones for treatment or where to obtain vaccines;
for journalists, civil society organizations, and government officials to identify disparities in the healthcare system that will disproportionately impact members of marginalized communities;
for government officials to determine where and when to build surge or overflow facilities;
for healthcare providers to direct patients with COVID-19 symptoms to facilities with the current capacity to treat them;
for a wide range of actors to understand where resources are scarce and work to fill gaps in personal protective equipment (PPE), medical devices, vaccines, etc.

This indicator emerges from data practices observed in conjunction with the coronavirus pandemic; the working assumption is that data will be found on COVID-19-related websites, run by the government, academia, or civil society.

In countries where infection counts have significantly decreased, this data may have been available in 2020 but may no longer be being updated in 2021. Many government COVID-19 response sites include archives of past data; we suggest checking the date ranges corresponding to peaks of infection in your country. However, if these peaks happened early in the global progression of the pandemic, we also recommend checking archives several months later, as countries' data-reporting practices have evolved considerably over the course of the pandemic.

Starting points

Search:

National or sub-national government websites about how and where to go for testing and treatment of COVID-19.
Websites of civil society organizations or mutual aid societies that provide information about testing or treatment of COVID-19.
Websites of your country's national or local public health department, center for disease control, or center for health statistics.

Consult:

Public health officials.
Records and analytics staff at healthcare facilities who are likely to know what information is reported, to whom, and how often.
Open data experts, programmers, and technologists who have organized data collaboratives or participated in other data-related efforts for COVID-19 response and recovery.

What to look for?

To complete the assessment for this question you will need to access and explore the available data. This may involve running queries on datasets to check the variety of fields included.

Look for evidence that can answer the following questions:

Does the data include information about the capacity of individual facilities that reflects real-time or very recent changes? Or does capacity information only speak to long-term capacity, not how it is currently being used?
Does the data include specific details, such as the number and availability of beds, tests, vaccines, and devices?

National and sub-national considerations

In some countries, sub-national departments of health may have different practices with regard to what capacity data they make available. Additionally, in some countries, data may be available only for hospitals in major cities.

Focus on national government first, and then assess whether:

National datasets also include data from sub-national or local government units;
Equivalent data exists for a selection of sub-national or local government units, but is not nationally aggregated;

To assess countries where data about healthcare system capacity is organized sub-nationally, researchers should select the strongest example of sub-national practice, and then indicate whether this is an outlier or an example of widespread practice.

Show/hide supporting questions

Existence

Is this data available online in any form?

Data is not available online.

Supporting questions:

Are there other offline ways to access this data in the country? (e.g., attending an office to inspect it).

Data is available, but not as a result of government action.

Supporting questions:

If government is not providing access to data, how is this data available?

Please provide a URL(s) for where this data can be found.

Data is available from government, or because of government actions.

Supporting questions:

Please provide a URL(s) for where this data can be found.

Elements

Data fields and quality:

The data includes information at the level of facilities. (No, Partially, Yes)

Supporting questions (conditional)

If Partially or Yes: If real-time healthcare system capacity data can be found in multiple datasets, please provide the URL(s) where facility level data is located.

If Partially: Please briefly explain your 'Partially' answer.

The data includes detailed information about the number and availability of regular beds and ICU beds. (No, Partially, Yes)

Supporting questions (conditional)

If Partially or Yes: If real-time healthcare system capacity data can be found in multiple datasets, please provide the URL where available beds data is located.

If Partially: Please briefly explain your 'Partially' answer.

The data includes detailed information about the number and availability of medical devices or supplies, such as ventilators or oxygen cylinders. (No, Partially, Yes)

Supporting questions (conditional)

If Partially or Yes: If real-time healthcare system capacity data can be found in multiple datasets, please provide the URL where available devices data is located.

If Partially: Please briefly explain your 'Partially' answer.

The data includes detailed information about the number, type, and availability of COVID-19 tests. (No, Partially, Yes)

Supporting questions (conditional)

If Partially or Yes: If real-time healthcare system capacity data can be found in multiple datasets, please provide the URL where COVID-19 tests data is located.

If Partially: Please briefly explain your 'Partially' answer.

The data includes detailed information about the number, type, and availability of COVID-19 vaccines. (No, Partially, Yes)

Supporting questions (conditional)

If Partially or Yes: If real-time healthcare system capacity data can be found in multiple datasets, please provide the URL where available COVID-19 vaccines data is located.

If Partially: Please briefly explain your 'Partially' answer.

Data openness, timing, and structure:

Dataset is available free of charge. (No, Partially, Yes)

Supporting questions (conditional)

If Partially: Please briefly explain your 'Partially' answer.

Data is openly licensed. (No, Partially, Yes)

Supporting questions (conditional)

If No: If there are explicit restrictions placed on re-use of the dataset, briefly describe those here.

If Partially or Yes: If the data is provided with an explicit open license, please provide the name of the license, or a link to it here.

Data is available in all the country's official or national languages. If the country has no official or national languages, data is available in the major languages of the country. (No, Partially, Yes) Assess this against the list of official, national, or in-use languages you provided as part of your response to the governance indicator that asks, "To what extent do relevant laws, regulations, policies, and guidance require that data collection and publication processes be available in the country's official or national languages?"

Supporting questions (conditional)

If Partially or Yes: Please briefly describe the language coverage available.

There are accessible and open official tools available to help users explore data. (No, Partially , Yes) Answer 'Partially' if tools make it possible to get at extracts of data without having to download a full dataset. Answer 'Yes' if there is an interactive tool that displays user-filtered extracts of the data to answer simple questions without downloading data at all.

Supporting questions (conditional)

If Partially or Yes: Please provide URL.

If Partially : What are the main barriers to accessibility and usability?

Data includes dynamic updates. (No, Partially, Yes) A common example of dynamic updating can be seen in displays that change in response to new, real-time or near real-time data, often with a detailed timestamp featured prominently.

Supporting questions (conditional)

If Partially: Please explain your 'Partially' answer.

Historical data is available that allows users to track change over time. (No, Partially, Yes)

Supporting questions (conditional)

If Partially: Please briefly explain your 'Partially' answer.

If Partially or Yes: For what time period(s) (e.g., start and end dates) is data available?

Data is provided in machine-readable format(s) (No, Partially, Yes)

Supporting questions (conditional)

If Partially or Yes: Please provide a URL where this machine-readable data can be found. (Additional URLs can be included in the justification and supporting evidence)

If Partially or Yes: Please provide a comma separated list of the formats available? (E.g. csv, json)

If Partially: What prevents you from assessing this data as fully machine-readable?

The machine-readable dataset is available as a whole (No, Partially, Yes) Answer no if it's only possible to access individual records; Answer partially if it's possible to export extracts of the data; Answer yes if there are bulk downloads or APIs providing access to the whole dataset without financial, technical or legal barriers.

Supporting questions (conditional)

If Partially or Yes: Please provide a URL where bulk download access is available or described.

If Partially or Yes: If bulk access is provided through an API, please provide a link to where the API is described.

If Partially: Please briefly explain your 'Partially' answer.

Negative scoring:

This information is missing required data. (There is no evidence of data gaps., There is evidence that a portion of mandated data is missing., There is evidence of widespread omissions in mandated data.) In cases where the indicator itself identifies a dataset(s) to assess against or a separate governance indicator has asked you to determine data requirements of a relevant governing framework, assess against that. In cases where there is no such identified dataset(s) or related governance indicator, assess based on the parameters laid out in the publication of the information (e.g., are some fields entirely empty when they shouldn't be?), your local knowledge (e.g., if the data is supposed to include information for all public officials, does the number of total entries look right?), and any broader research you may have done for this theme (e.g., have media articles decried the incompleteness of the data?).

Supporting questions (conditional)

If There is evidence that a portion of mandated data is missing. or There is evidence of widespread omissions in mandated data.: Please briefly explain.

Extent

How comprehensive is the data assessed for this question?

The data assessed covers one or more localities, but there are many other localities without available data, or with data of a lesser quality.

Supporting questions:

Which locality does this data cover?

The data assessed covers one or more localities, and is a representative example of the kind of data that can be found for most but not all localities.

Supporting questions:

Which localities does this data cover?

The data assessed provides national coverage.

Healthcare system capacity data supports governments and other actors in distributing resources to ensure healthy lives and promote well-being for all at all ages (SDG 3). This is particularly critical in the urgency of a public health crisis like the coronavirus pandemic. As the WHO COVID-19 Strategic Preparedness and Response Plan (SPRP 2021) notes, "Health care systems and workers...are under extreme pressure in many countries in terms of capacity and capabilities, financial resources, and access to vital commodities and supplies including medical oxygen"(8). Real-time or near real-time data about a healthcare system's capacity can help direct patients to available care and support distributing resources equitably and effectively.

With the rise of highly infectious COVID-19 variants, the continued dynamic and uncertain course of the pandemic, and the uneven global distribution of vaccines, it will be considerable time before the pandemic is contained. In the meantime, real-time or near real-time capacity data can both help public health departments respond to changes in the pandemic, and help ensure the continuity of essential health services, providing a foundation from which to build readiness for other health emergencies.

Availability: Vaccination (COVID-19)¶

To what extent is COVID-19 vaccination information available as open data?

Definitions and Identification

Data about COVID-19 vaccines and vaccination should be specific and detailed regarding aspects such as number and type of doses available and administered, as well as what percentage of total doses this represents; it should provide basic demographic information about who is being vaccinated, such as age, sex, disability, and membership in a marginalized population; and it should include information regarding where vaccination is taking place and how the process is distributed across the country.

Among other functions, it should be possible for different actors to use data about vaccines and vaccination in various ways:

to track the state of vaccination in the country and the degree of presumptive COVID-19 immunity;
to assess and update public health restrictions such as lockdowns, travel restrictions, mask mandates, or distancing, as appropriate;
to determine if vaccination is occurring equitably;
to support analysis of the duration, efficacy, and other aspects of the various vaccines;
to plan for the eradication of COVID-19.

Starting points

Sources:
Search:

National or sub-national government websites about how and where to go for vaccination, testing, or treatment of COVID-19.
Websites of civil society organizations or mutual aid societies that provide information about vaccination, testing, or treatment of COVID-19.
Websites of your country's national or local public health department, center for disease control, or center for health statistics.

Consult:

Public health officials.
Open data experts, programmers, and technologists who have organized data collaboratives or participated in other data-related efforts for COVID-19 response and recovery.

What to look for?

To complete the assessment for this question you will need to access and explore the available data. This may involve running queries on datasets to check the variety of fields included.

Look for evidence that can answer the following questions:

Does the data include specific details about vaccine supply and administration, or does it only offer very general information? For example, does it include the number of doses that health authorities possess and of what type; the number of doses administered, broken into partial and complete vaccination; and the percent of total doses administered?
Does the data include demographic information about the people who have been vaccinated? If so, what kinds? For example, it might include information about age, sex, disability, membership in a marginalized population.
Does the data include information about the geographic distribution of vaccinations? For example, does it include vaccinations by county, or perhaps by facility?

National and sub-national considerations

In some countries, data about COVID-19 vaccinations may be generated and published at the sub-national level, carried out by individual states, regions, or cities.

Focus on national government first, and then assess whether:

National datasets also include data from sub-national or local government units;
Equivalent data exists for a selection of sub-national or local government units, but is not nationally aggregated;

To assess countries where data about COVID-19 vaccinations is organized sub-nationally, researchers should select the strongest example of sub-national practice, and then indicate whether this is an outlier or an example of widespread practice.

Show/hide supporting questions

Existence

Is this data available online in any form?

Data is not available online.

Supporting questions:

Are there other offline ways to access this data in the country? (e.g., attending an office to inspect it).

Data is available, but not as a result of government action.

Supporting questions:

If government is not providing access to data, how is this data available?

Please provide a URL(s) for where this data can be found.

Data is available from government, or because of government actions.

Supporting questions:

Please provide a URL(s) for where this data can be found.

Elements

Data fields and quality:

The data includes specific details on vaccine supply and administration, such as number of doses in possession and of what type, number of doses administered (this may be broken into partial and complete vaccination), and percent of total doses administered. (No, Partially, Yes)

Supporting questions (conditional)

If Partially or Yes: If COVID-19 vaccination data can be found in multiple datasets, please provide the URL where details of vaccine supply are located.

If Partially: Please briefly explain your 'Partially' answer.

The data includes information about the geographic distribution of vaccinations. (No, Partially, Yes)

Supporting questions (conditional)

If Partially or Yes: If COVID-19 vaccination data can be found in multiple datasets, please provide the URL where data on its geographic distribution located.

If Partially: Please briefly explain your 'Partially' answer.

The data includes information about the age of the people who have been vaccinated. (No, Partially, Yes)

Supporting questions (conditional)

If Partially or Yes: If COVID-19 vaccination data can be found in multiple datasets, please provide the URL where data on age of vaccinated people is located.

If Partially: Please briefly explain your 'Partially' answer.

The data includes information about the sex and/or gender of the people who have been vaccinated. (No, Partially, Yes)

Supporting questions (conditional)

If Partially or Yes: If COVID-19 vaccination data can be found in multiple datasets, please provide the URL where information about the sex of people who have been vaccinated is located.

If Partially: Please briefly explain your 'Partially' answer.

The data includes information about the disability status of the people who have been vaccinated. (No, Partially, Yes)

Supporting questions (conditional)

If Partially or Yes: If COVID-19 vaccination data can be found in multiple datasets, please provide the URL where information about disability of people who have been vaccinated is located.

If Partially: Please briefly explain your 'Partially' answer.

The data includes information about membership in a marginalized population among the people who have been vaccinated. (No, Partially, Yes)

Supporting questions (conditional)

If Partially or Yes: If COVID-19 vaccination data can be found in multiple datasets, please provide the URL where information about membership in a marginalized population among the people who have been vaccinated is located.

If Partially: Please briefly explain your 'Partially' answer.

The data includes information about vaccination for residents of long-term care facilities. (No, Partially, Yes)

Supporting questions (conditional)

If Partially or Yes: If COVID-19 vaccination data can be found in multiple datasets, please provide the URL where information about vaccination for residents of long-term care facilities is located.

If Partially: Please briefly explain your 'Partially' answer.

The data includes information about vaccination for residents of prisons and jails. (No, Partially, Yes)

Supporting questions (conditional)

If Partially or Yes: If COVID-19 vaccination data can be found in multiple datasets, please provide the URL where information about vaccination for residents of prisons and jails is located.

If Partially: Please briefly explain your 'Partially' answer.

Data openness, timing, and structure:

Dataset is available free of charge. (No, Partially, Yes)

Supporting questions (conditional)

If Partially: Please briefly explain your 'Partially' answer.

Data is openly licensed. (No, Partially, Yes)

Supporting questions (conditional)

If No: If there are explicit restrictions placed on re-use of the dataset, briefly describe those here.

If Partially or Yes: If the data is provided with an explicit open license, please provide the name of the license, or a link to it here.

Data is available in all the country's official or national languages. If the country has no official or national languages, data is available in the major languages of the country. (No, Partially, Yes) Assess this against the list of official, national, or in-use languages you provided as part of your response to the governance indicator that asks, "To what extent do relevant laws, regulations, policies, and guidance require that data collection and publication processes be available in the country's official or national languages?"

Supporting questions (conditional)

If Partially or Yes: Please briefly describe the language coverage available.

There are accessible and open official tools available to help users explore data. (No, Partially , Yes) Answer 'Partially' if tools make it possible to get at extracts of data without having to download a full dataset. Answer 'Yes' if there is an interactive tool that displays user-filtered extracts of the data to answer simple questions without downloading data at all.

Supporting questions (conditional)

If Partially or Yes: Please provide URL.

If Partially : What are the main barriers to accessibility and usability?

Data is timely and updated. (No, Partially, Yes)

Supporting questions (conditional)

If Partially or Yes: When was the most recent update to this dataset?

Historical data is available that allows users to track change over time. (No, Partially, Yes)

Supporting questions (conditional)

If Partially: Please briefly explain your 'Partially' answer.

If Partially or Yes: For what time period(s) (e.g., start and end dates) is data available?

Data is provided in machine-readable format(s) (No, Partially, Yes)

Supporting questions (conditional)

If Partially or Yes: Please provide a URL where this machine-readable data can be found. (Additional URLs can be included in the justification and supporting evidence)

If Partially or Yes: Please provide a comma separated list of the formats available? (E.g. csv, json)

If Partially: What prevents you from assessing this data as fully machine-readable?

The machine-readable dataset is available as a whole (No, Partially, Yes) Answer no if it's only possible to access individual records; Answer partially if it's possible to export extracts of the data; Answer yes if there are bulk downloads or APIs providing access to the whole dataset without financial, technical or legal barriers.

Supporting questions (conditional)

If Partially or Yes: Please provide a URL where bulk download access is available or described.

If Partially or Yes: If bulk access is provided through an API, please provide a link to where the API is described.

If Partially: Please briefly explain your 'Partially' answer.

Negative scoring:

This information is missing required data. (There is no evidence of data gaps., There is evidence that a portion of mandated data is missing., There is evidence of widespread omissions in mandated data.) In cases where the indicator itself identifies a dataset(s) to assess against or a separate governance indicator has asked you to determine data requirements of a relevant governing framework, assess against that. In cases where there is no such identified dataset(s) or related governance indicator, assess based on the parameters laid out in the publication of the information (e.g., are some fields entirely empty when they shouldn't be?), your local knowledge (e.g., if the data is supposed to include information for all public officials, does the number of total entries look right?), and any broader research you may have done for this theme (e.g., have media articles decried the incompleteness of the data?).

Supporting questions (conditional)

If There is evidence that a portion of mandated data is missing. or There is evidence of widespread omissions in mandated data.: Please briefly explain.

Extent

How comprehensive is the data assessed for this question?

The data assessed covers one or more localities, but there are many other localities without available data, or with data of a lesser quality.

Supporting questions:

Which locality does this data cover?

The data assessed covers one or more localities, and is a representative example of the kind of data that can be found for most but not all localities.

Supporting questions:

Which localities does this data cover?

The data assessed provides national coverage.

Successfully managing and ending the COVID-19 pandemic is critical for ensuring healthy lives and promoting well-being for all at all ages (SDG3). More specifically, SDG target 3.3 calls for combating communicable diseases, with specific attention to epidemics; vaccines and vaccination programs are fundamental to these efforts.

Responding effectively to the ongoing global health crisis requires accurate and timely vaccination data. The manufacture of vaccines is currently limited to comparatively few countries, and several such countries have adopted stances of vaccine nationalism, hoarding vaccines. Consequently, the global vaccine rollout is and will continue to be uneven. At the same time, the virus itself continues to change, producing new variants, and there is still much we do not yet know about the duration and efficacy of the existing vaccines. All of these factors make high-quality vaccination data even more important.

Further, within countries access to vaccines is frequently inequitable. As with testing and treatment, disparities are likely to track the social determinants of health; thus, for example, disparities may be correlated with location or demographic variables.

Ended: Health & COVID-19Ended: Thematic modules Ended: Indicators